Apple's Margins May Be Thin, But iDevices Sell Like Hotcakes
First-quarter Apple (NASDAQ:AAPL) earnings have come and gone, and the market reaction was about as calm as investors could have hoped for. Options pricing last Friday suggested a post-earnings price swing of as much as 7.5 percent by April 26, a move that now looks unlikely.
Briefly, Apple's first-quarter revenue increased 11.7 percent on the year to $43.6 billion, beating out expectations for $42.68 billion. Earnings fell 17.97 percent to $10.09 per share, missing some estimates but not by much. The major point of concern out of the release is a 9.9 percentage point decline in gross margins to 37.5 percent. This decline in gross margin has already prompted at least one analyst to downgrade the stock from an Outperform to a Market Perform.
Sales for the quarter were relatively strong, as evidenced by the revenue gain, and suggested that the iPhone was no longer the company's main driver of growth…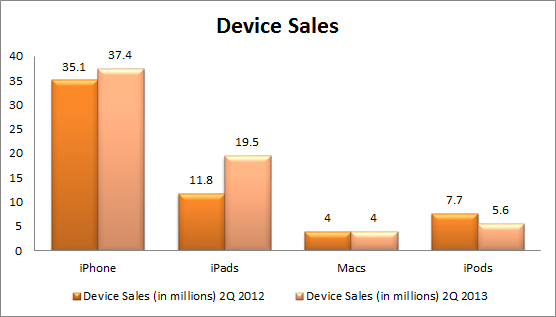 Between them, Sprint (NYSE:S), Verizon (NYSE:VZ), and AT&T (NYSE:T) sold about 10.3 million iPhones in the March quarter, more than a quarter of the total number sold by Apple. iPhone sales increased 6.55 percent on the year, which analysts were quick to point out was much slower than the 30 percent growth rate experienced by the smartphone market at large.
"We do want to grow faster," CEO Tim Cook said on the earnings call. "We don't however, view it as the only measure of our health." Cook indicated that the company has a tremendous amount of faith in the tablet market, and that its 65.25 percent increase in iPad sales should be taken as a good sign.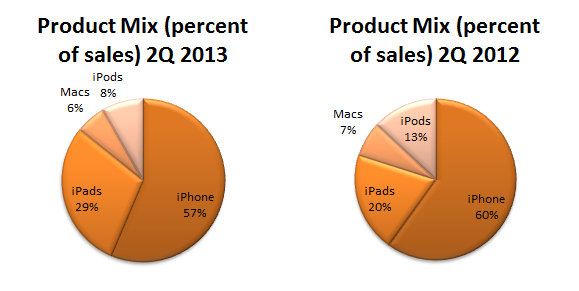 Don't Miss: Does Apple Still Have Something to Prove?