Apple's New Security Protocol Goes Global
Apple's (NASDAQ:AAPL) new two-step verification process for digital purchases and password resets is finally being implemented in more countries around the world. When the security feature was introduced back in March, it was initially only available for users in Australia, Ireland, New Zealand, the UK and the U.S. However, reports of the appearance of this feature have been coming in from users around the world via Apple Insider. The feature has now been reportedly activated for users in Argentina, Austria, Belgium, Brazil, Canada, Italy, Pakistan, Poland, Portugal, Germany, Mexico, the Netherlands and Russia.
This feature adds another layer of security by requiring a 4-digit verification code every time a user logs in to the My Apple ID webpage. The additional verification passcode is sent to a device that the user selects through Apple's Find My Phone app. Users who select a non-Apple device can still have a text message sent to their phone. A recovery key is also provided in case your selected device is stolen or lost.
Although this is still an optional feature, it will be available for customers making purchases through the iTunes Store, the App Store, and the iBookstore. A user can also set up this feature for resetting their account password.
This additional feature is part of the Cupertino-based company's overall efforts to constantly improve its product and software security. Although Apple's tightly-controlled, closed software system is generally viewed as more secure than Google's (NASDAQ:GOOG) open-source Android platform, Apple has had a few security breaches in the past.
Soon after Apple unveiled the two-step verification feature in March, the Cupertino-based company was forced to temporarily shut down its iForgot password reset page due to a security hole that allowed hackers to use a victim's date of birth and Apple ID to bypass any security questions that Apple required. This was done by sending a specially crafted URL directly to Apple, which would then prompt an automatic password change without requiring any further information. However, by the evening of March 22, the iForgot page was up and running and Apple had fixed the flaw.
Apple shares closed down 0.83 percent at $452.97 on Friday after shedding $3.80 from its price at the opening bell. Here's how Apple has traded so far over the past week.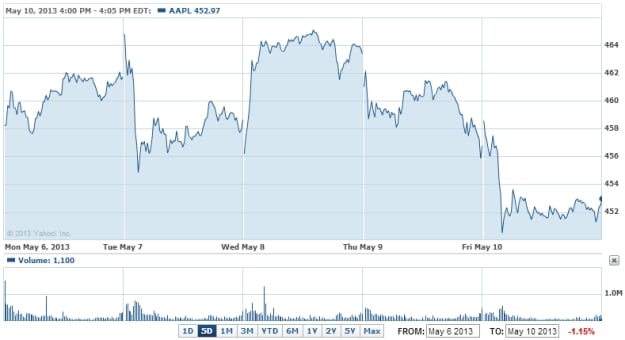 Don't Miss: Apple Is Getting Swamped in These Smart Mobile Stats.