Apple's U.K. Customers Show the Most iOS 7 Love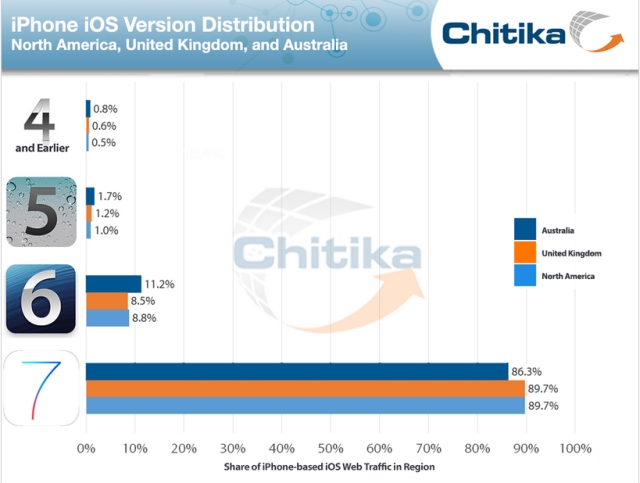 Are Apple's U.K. customers the biggest fans of the company's latest mobile operating system? According to a new study from online ad network company Chitika, Apple's (NASDAQ:AAPL) British customers have a lead on their Yankee counterparts across the pond when it comes to combined iOS 7 adoption rates for the iPhone and iPad. On the other hand, Apple users down under are a bit more cautious when it comes to installing the latest version of iOS.
A previous Chitika study conducted before the recently concluded Worldwide Developers Conference found that 89.7 percent of U.S. and Canadian iPhone Web traffic is produced by devices running some version of iOS 7. This rate of adoption is slightly lower than the 92.7 percent adoption rate achieved by iOS 6 during the same time period last year. However, Chitika researchers noted that there were several issues associated with the iOS 7 upgrade that may have led a small percentage of users to stick with iOS 6. It should also be noted that iOS 7 featured a completely redesigned user interface with a new, flatter appearance that may have made some users hesitant to upgrade.
While Chitika's last study compared iOS 7 adoption rates in North America to the iOS 6 adoption rates during the same period last year, the latest study examined adoption rates on a regional basis by comparing iOS Web traffic in the U.K., Australia and North America. As seen in the chart above, iOS 7 adoption rates for iPhone users in the U.K. are evenly matched with North American iPhone users at 89.7 percent. However, the U.K.'s iOS 7 adoption rate on the iPad gives the region an overall lead on North America.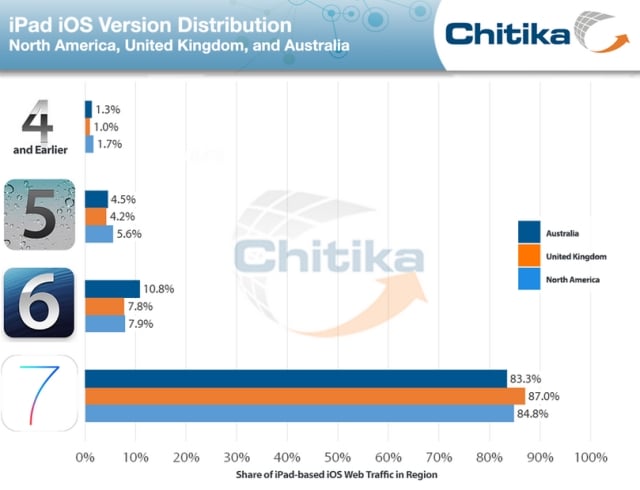 As seen in the chart above, a full 87 percent of the U.K.'s iPad user base is running iOS 7, compared to only 84.8 percent of iPad users in North America. However, as noted by Chitika, the difference between the iOS 7 adoption rates in the U.K. and North America may be related to the initial release schedule for the original iPad.
The first-generation iPad was released in North America a full month before it was released in the U.K. and Australia. Presumably, this means that Apple sold a greater number of first-generation iPads in North America than it did in other regions. Since the original iPad is not compatible with iOS 6 or iOS 7, this would explain why North America has an unusually high percentage of iPads still running iOS 5 or earlier when compared to the U.K. and Australia. Tablets also tend to have a longer lifespan than smartphones, which would explain why this adoption rate difference is only found in the iPad user base.
However, what about Australia's relatively lower iOS 7 adoption rate for both the iPhone and the iPad? Although it's not known why Australians seem to prefer sticking with Apple's older mobile operating systems longer than users in other regions, researchers at Chitika speculated that Australians' reluctance to upgrade may be related to the widely-publicized problems that Apple Maps had in that country two years ago.
Apple originally launched Apple Maps as a part of iOS 6 in September of 2012. However, the application's launch was marred by various glitches, including one notorious incident in which several Australian Apple Maps users became stranded in an isolated area after the app directed them 43 miles off course, reports CNET. As a result, Australian authorities recommended that iPhone users should not rely on the accuracy of Apple Maps. Chitika researchers believe that this incident may still be making users in Australia wary about upgrading to the latest iOS.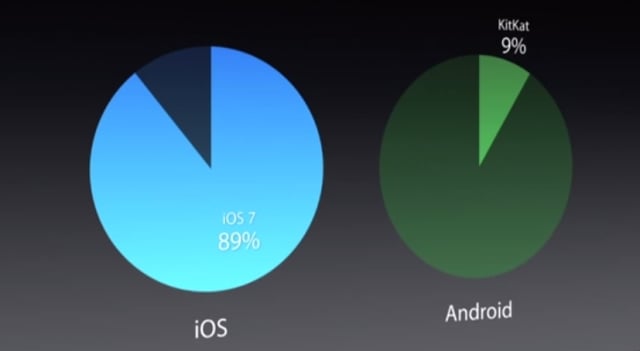 Although it is interesting to note the differences in iOS 7 adoption rates across different countries, Chitika's study only confirms what Apple has long claimed: that its users are far more likely to upgrade to the latest operating system than Android device users are. Apple CEO Tim Cook highlighted this difference between iOS and Android during the company's recent WWDC.
According to statistics cited by Cook, only 9 percent of Android users are running the latest KitKat version of Google's (NASDAQ:GOOG) (NASDAQ:GOOGL) open source operating system. "That means that these customers are not getting great new features, they're not able to run your latest apps, and they don't get security updates that they may need to stay safe," stated Cook.
As noted by Cook, Android "dominates the mobile malware market" with a 99 percent share. Apple users' high rate of adoption means that the recently unveiled iOS 8 will likely be quickly installed by most iPhone and iPad users when it becomes publicly available this fall.
More from Wall St. Cheat Sheet:
Follow Nathanael on Twitter (@ArnoldEtan_WSCS)