Apple's Working On Scaling the Android Mountain
Apple (NASDAQ:AAPL) continues to be the leading original equipment manufacturer, or OEM, in the smartphone market; while Google's (NASDAQ:GOOG) Android hangs on to its number one spot as the most popular smartphone operating system.
According to the analytic market research company comScore (NASDAQ:SCOR), Apple's share of the OEM smartphone market rose 2.7 percentage points to 39 percent during the last 3-month period ending in March. Samsung's (SSNLF.PK) Android-powered devices were used by 21.7 percent of subscribers during the same period. However, Samsung's OEM market share only rose by 0.7 percentage points, up from 21 percent in December.
While Samsung and Apple both increased their OEM market share, the three bottom-ranked smartphone manufacturers all lost market share over the past three months. HTC claimed third-place in OEM market share with 9 percent of subscribers using an HTC smartphone, but dropped 1.2 points from last year. Similarly, Motorola dropped 0.6 points to 8.5 percent and South Korea-based LG lost 0.3 points to fall to a 6.8 percent OEM market share in fifth place.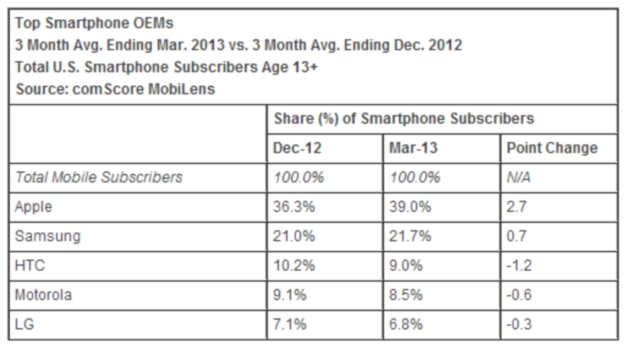 Google's Android is still the dominant smartphone platform, but it did see its share drop 1.4 percentage points from its 53.4 percent market share in December. Apple, on the other hand, saw its iOS platform market share jump 2.7 points to a 39 percent share of the market.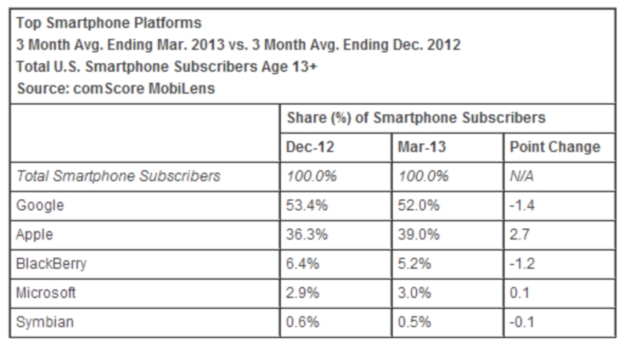 BlackBerry (NASDAQ:BBRY) maintained its position at a distant third-place with a 5.2 percent share of the overall smartphone operating system market. However, it lost 1.2 percentage points from its 6.4 percent share of the market last 3-month period ending in December.
The chart below compares how Apple and Google traded throughout this week.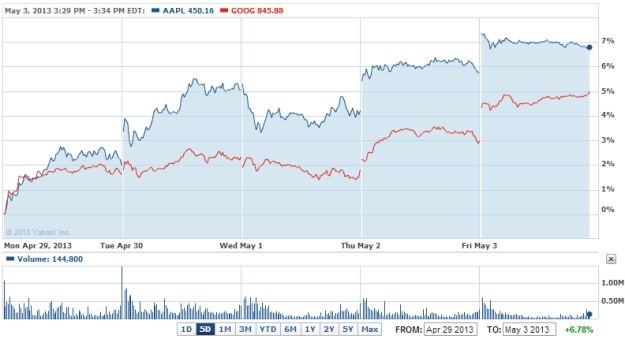 Don't Miss: Apple Sales Drop Squeezes This Supplier.