Apple's WWDC Is the Wrong Place to Find Devices; Computex Proves It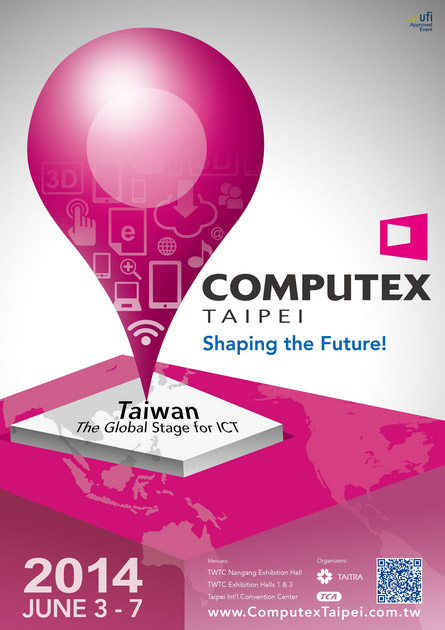 Apple's (NASDAQ:AAPL) Worldwide Developers Conference is chugging along, but way across the Pacific Ocean there's plenty of hoopla going on for everything not-Apple, and that may be where the attention actually belongs.
Expectations may have been optimistically (read: irrationally) high for WWDC, as some Apple fans were hopeful that the Cupertino-based company would unveil the oft-rumored iTV or iWatch, or maybe even the iPhone 6 well ahead of its typical product timeline. Instead of these, Apple has unveiled a suite of upgrades and enhancements to its operating system environment. On top of iOS 8 and OS X Yosemite, Apple introduced a number of new features like seamless integration between iPhones, iPads, and Macs. It also introduced HealthKit and HomeKit, for health and activity tracking and home automation. While some of this will be important to consumers, this conference is after all for developers. So, it makes perfect sense for developers to keep their focus on WWDC.
Consumers, on the other hand, might find a lot more to ooh and aah about at Computex, the tech trade show going on in Taipei, Taiwan. The show features dozens of major manufacturers and software makers from both Taiwan and around the world, including big names like Microsoft (NASDAQ:MSFT), Acer, Asus (ASUUY.PK), Intel (NASDAQ:INTC), and even Ford (NYSE:F). It features plenty of devices for consumers to gawk at in contrast to the WWDC's lack of hardware. The products range from tiny computer chips constructed on building blocks smaller than silt to smartphones, tablets, and computers at the top of the game.
Here are some of the big highlights coming out of the event:
According to Gulf News, Ford introduced what it considers "the smartest Mustang to date," with a number of advanced technologies. The car will include AppLink, as well as voice controls, early warning collision systems, drive-mode selection for various terrain, and a setting to keep kids from ruining their parents' Mustang: maximum top speeds and music volumes. Ford is also said to be introducing an information sharing system between cars to improve safety.
As reported by Mac Rumors, Intel introduced its Broadwell chip in a reference PC-tablet hybrid that was thinner than an iPad air. The Broadwell chip is a major step forward for Intel not only because it is the first processor ever produced on the 14-nanometer process, according to Focus Taiwan, but because it will allow for fan-less — and thus, much thinner — tablets and laptops to use Intel's chips while also having the most energy efficiency yet. On top of that, Intel has also shown off its SoFIA platform for low-cost smart devices with a quad-core processor and 3G connectivity, reports AnandTech.
CNET reports that MSI has introduced an incredibly low-profile but high-power gaming computer with a 4K-resolution screen called the GS60 2PE Ghost Pro. The device weighs in at just under 2kg and is only 19.95mm thick, but ti packs in 256GB of solid state storage, a 1TB disk hard drive, a fourth-gen Intel i7 processor, 16GB of RAM, and a high-power Nvidia GTX870M graphics processor, along with a handful of ports. A definite step forward in both portable gaming PCs, but also the ultrabook category.
In opposition to MSI's Ghost Pro, Gigabtye has released the "Thinnest, Lightest SLI Gaming Laptop" called the AORUS X7, according to the Computex website. While it might not be as thin or light as the MSI laptop, it may pack even more of a whallop. It also will have fourth-gen Intel i7 processor cores, but to differentiate, it will include dual Nvidia GTX 860M graphics processors paired through SLI technology to offer an incredibly high quality graphics experience.
One of the wilder concepts to show up comes from Asus in the Transformer Book V. CNET reported the low down on the device, which is a combination of Windows PC, Windows tablet, Android tablet, Android PC, and Android smartphone. The device has all the hardware it needs to stand alone as a Windows PC or tablet, but the rear has a slot for sliding in the included Asus smartphone, which runs Android 4.4 and can be used to power the device in Android mode. It may seem absurd, but some people want seamless integration between their devices — something Apple addressed with it's software updates.
Asus didn't stop there, as it also introduced the Transformer Book T300 Chi, which is a hybrid device with a 2,560×1,440-resolution display and an incredibly thin 0.56-inch form factor with the keyboard dock (0.27 inches without the dock). ZDNet reports it will be fanless and run on Intel's Broadwell processor.
Of course, with as many companies involved in Computex as there are, this list of highlights isn't even scratching the surface of what there is. Each company listed here has much more to offer, and there are hundreds more companies showing off their goods. So, if it's devices people want, then WWDC has been the wrong place to look.
Follow Mark on Twitter @WallStMarkSheet
More From Wall St. Cheat Sheet: