Are Apps on Apple's iOS the Most Unsafe?
Apple's (NASDAQ:AAPL) iOS platform is known for having the lead in the number of mobile applications it offers its users, but according to a new research, the operating system may also be hosting the least-safe programs. Google's (NASDAQ:GOOG) Android is better, but not by much. According to IDC data, iOS and Android combine for more than 90 percent of the worldwide smartphone operating system share.
Appthority's App Report for February said that the most popular free iOS apps share more user data than free popular apps on Android. The research firm only included free apps in its research as these are more likely to rely on ad networks and analytics companies as a means of generating revenue.
Is Apple now a once-in-a-decade buying opportunity? Click here to get your 24-page Ultimate Cheat Sheet to Apple's Stock now!
The study found that all 50 of the top free iOS apps regularly send and receive data without encryption. By comparison, 92 percent of the top 50 free Android apps do the same. Entertainment apps are the most relaxed with sharing user data, while games and business apps are also big culprits. Educational and finance apps display the least risky behaviors.
On iOS, 60 percent of the top apps regularly track user location, 54 percent have access to a user's contact list, 60 percent share data with ad or analytics networks, and 14 percent access users' calendars. Meanwhile, 42 percent of Android apps track user location, 20 percent have access to contacts, and 50 percent share data with ad networks. None were found to access users' calendars.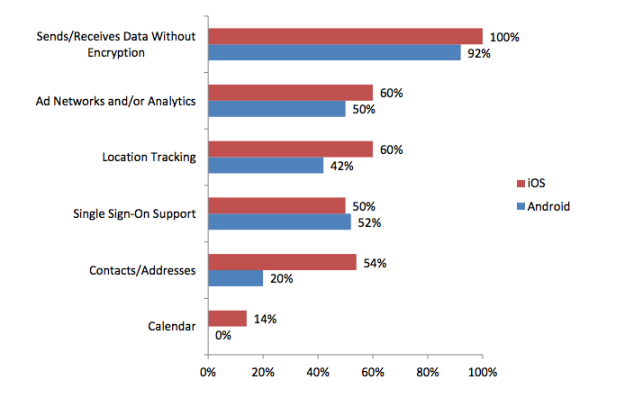 (Chart courtesy Appthority)
"An interesting emerging trend is the popularity of single sign-on support on both iOS and Android," Appthority said in its report. "SSO can be great for users from a functionality perspective, allowing them to leverage Facebook (NASDAQ:FB), Twitter, or other popular social networking authentication methods. However, common security vulnerabilities in SSO methods can also be detrimental to any app that incorporates the faulty SSO feature."
The stock market is roaring back in 2013. Click here now to discover winning stocks!
Aggregating the information for both platforms combined, 96 percent of total apps share data with advertising networks or analytics companies, while 79 percent of the top 50 free iOS and Android apps are associated with risky behaviors or privacy. More than 80 percent of apps across categories come from different unique, individual developers, the report said.
Don't Miss: Here's Verizon's Love Song to Apple.