Are Facebook Users Becoming Less Interested?
Facebook (NASDAQ:FB), the world's largest social-media network, recently celebrated its nine-year anniversary. In less than a decade, the site has accumulated more than one billion users and became a publicly traded company in one of the biggest initial public offerings in history. However, as a public entity, Facebook is constantly under the microscope. A new study pokes at user trends and their increasing willingness to take breaks from the social giant.
Considering other social sites such as LinkedIn (NYSE:LNKD), Google+ (NASDAQ:GOOG) or Yelp (NYSE:YELP), Facebook is clearly in a class of its own in terms of the amount of users, but are they becoming less interested? New findings from the Pew Research Center's Internet & American Life Project indicates that 61 percent of current Facebook users at one time or another in the past took a voluntarily break from the social site for several weeks or more.
Apparently, Facebooking is not for everyone. Twenty-percent of the online adults who do not currently use Facebook, claim they at least tried the social site once, but no longer use it. Only 8 percent of online adults who do not currently use Facebook are actually interested in becoming a user in the future.
Why did users change to inactive status…
The study asked the 61 percent of Facebook users that took a break to explain why they did so. There was a wide variety of reasons, but 21 percent said they were simply too busy and did not have time for it. Ten percent said they were not interested or did not like it, while another 10 percent said the content was not relevant and a waste of time.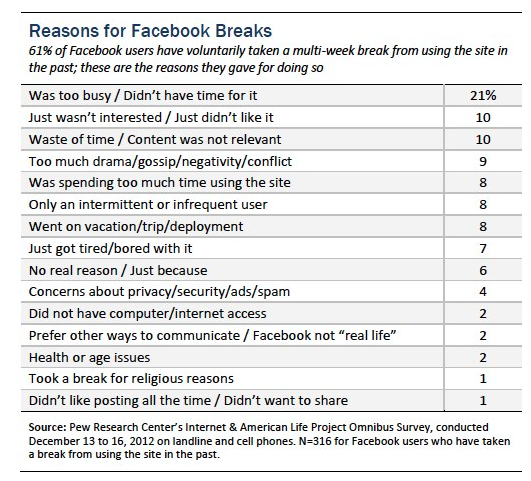 Pew Internet provides some of the thoughts from those who took Facebook breaks: 'I was tired of stupid comments.'… '[I had] crazy friends. I did not want to be contacted.'…'I took a break when it got boring.'…'It was not getting me anywhere.'…'Too much drama.'…'You get burned out on it after a while.'…'I gave it up for Lent.'…'I was fasting.'… 'People were [posting] what they had for dinner.'…'I didn't like being monitored.'…'I got harassed by someone from my past who looked me up.'…'I don't like their privacy policy.'…'It caused problems in my [romantic] relationship.'
On the positive, a whopping 92 percent of social networking site users maintain a profile on Facebook…
More than half of the entire adult population in the United States use an online social network of some kind. When asked to asses the amount of time they spend on Facebook, the majority still see the site in a positive light. Almost 60 percent say Facebook is about as important to them as it was a year ago, and 53 percent of current users say the amount of time they are spending on the site stayed about the same. Twenty-eight percent of users say the site has become less important.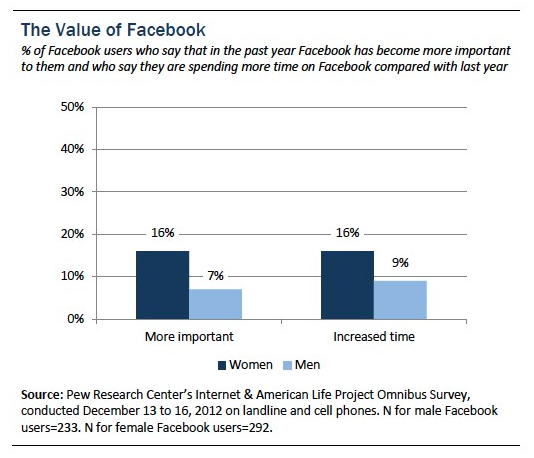 As the chart above shows, women are more likely than men to find value in Facebook. Sixteen percent of female users found Facebook more important over the past year, compared to only 7 percent of men. Sixteen percent of women also reported spending more time on Facebook.
What is the message on the future…
Most current Facebook users say their time on the site will stay about the same in the coming year, but there is a significant portion who say they will spend less time on the social network, which could impact other companies in the  Internet industry such as Zynga (NASDAQ:ZNGA).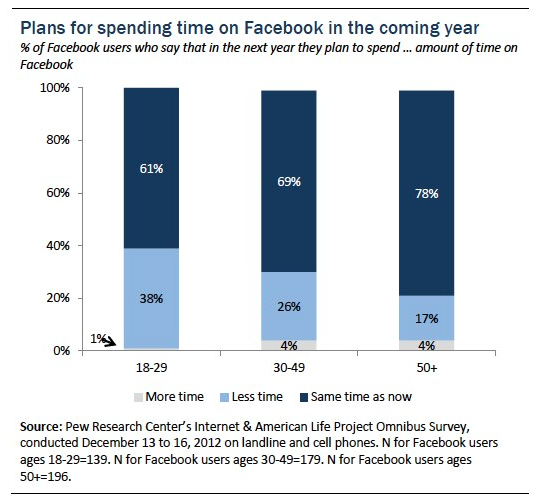 Pew Internet explains, "Young adults are the most likely forecasters of decreased engagement. Some 38 percent of Facebook users ages 18-29 expect to spend less time using the site in 2013, although a majority of users across age groups anticipate that their Facebook usage will remain largely stable in the year to come."
Investor Insight: Is Zynga Painting an Ugly Future with These Pictures?