Are Google and Tesla Building the Car of the Future?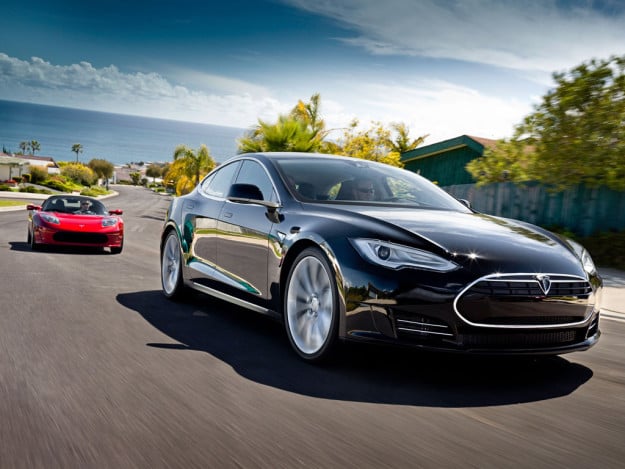 While automakers like Nissan and federal regulators have said that vehicles capable of driving themselves will not be a reality for another ten years, Google (NASDAQ:GOOG) believes that futuristic development can be completed in half the time.
Electric car manufacturer, Tesla (NASDAQ:TSLA), has already approached Google about incorporating such driverless technology into its vehicles.
Tesla founder and Chief Executive Officer Elon Musk believes that technologies that can pilot cars in the place of human drivers are a logical step in the evolution of automobiles, but he prefers to think of such systems as similar to an airplane's autopilot rather than artificial intelligence. "I like the word autopilot more than I like the word self-driving," Musk said in an interview with Bloomberg. "Self-driving sounds like it's going to do something you don't want it to do. Autopilot is a good thing to have in planes, and we should have it in cars." However, Google's driverless technology is led by Sebastian Thrun, who once headed Stanford University's Artificial Intelligence Laboratory.
Both regulators and automakers have long grappled with when and how driverless technologies can be used to increase safety and driver convenience, but Google has already developed a driverless fleet of Toyota (NYSE:TM) Prius hybrids, which are directed by laser-radar devices mounted on the roofs. Its approach builds on driverless-car technology pioneered by the U.S. military's Defense Advanced Research Projects Agency.
It will not be long before the technology will be ready for the customer market; Anthony Levandowski, product manager for Google's self-driving car project, has said that the technology will be released within the next five years.
But for Musk there is a price problem. "The problem with Google's current approach is that the sensor system is too expensive," he said. "It's better to have an optical system, basically cameras with software that is able to figure out what's going on just by looking at things." The Tesla CEO is now working to lower the cost of its electric vehicles to the point they are affordable for mainstream consumers. Currently, the Model S sedan sells for $69,000, but Musk has said the company plans to squeeze expenses so that a version can be offered for approximately $30,000 within the next few years. The company's first vehicle, the Roadster, started at $109,000.
"We've had some technical discussions with Google" about its Light Detection and Ranging, or Lidar, laser tracking system, Musk said to Bloomberg last week, adding that the technology was expensive and most likely not a feasible approach for Tesla. "I think Tesla will most likely develop its own autopilot system for the car, as I think it should be camera-based, not Lidar-based," Musk told the publication Monday in an e-mail. "However, it is also possible that we do something jointly with Google."
Toyota, a Tesla investor like Google, showed off a driverless test vehicle in Las Vegas last January that was equipped with a Lidar device. The world's largest automaker is following an approach similar to Tesla; it wants to develop virtual co-pilot that helps drivers avoid accidents rather than build self-driving cars and trucks. But Tesla is not discussing driverless-car technology with Toyota, as Musk believes that such vehicles are not a top priority. "We're not focused on autopilot right now; we will be in the future," he said. "Autopilot is not as important as accelerating the transition to electric cars, or to sustainable transport."
Tesla will release first-quarter results on Wednesday, and this year to date, shares of the electric car manufacturer have risen 76 percent.
You can follow Meghan on Twitter (@MFoley_WSCS) for the latest industry news.
Don't Miss: Will Ford Change Everything After These Bumbled Launches?