Are Hybrids the Future of Apple?
A new patent published by the U.S. Patent and Trademark Office today reveals Apple's (NASDAQ:AAPL) ongoing interest in wireless charging technology, as well as an unusual hybrid design that seems to combine two of Apple's most successful products.
The patent abstract describes a device that is "a computer, including a base and a display selectively removable from the base. The base includes a processor, a base wireless chip, and a power source."
Quite simply, the patent seems to describe a device that is a combination of an iPad and a MacBook. However, unlike other similar hybrid devices currently on the market from Dell (NASDAQ:DELL) and Lenovo, this device would have the additional ability to charge and transmit data wirelessly. As stated in Apple's patent abstract, "The base wireless chip transmits data from the processor to the display. Also, when the display is at least in one position with respect to the base, the power source transmits power to the power transition member of the display"…
CNET reports that Apple CEO Tim Cook has previously described hybrid devices as "trade-offs" that "are probably not going be pleasing to the user." However, this recently published patent demonstrates that Apple is not closing the door on any future technology options for its products.
Apple moved down 1.12 percent at $422.93 in early trading on Friday morning.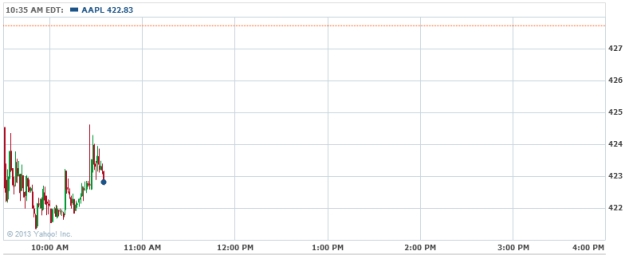 Don't Miss: Is Apple's iRadio Almost Dialed In?