Are iBooks Bestsellers Different From Kindle Bestsellers?
The concept of the bestseller is ubiquitous not only for traditional books, but for digital media like e-books, apps, games, and music. A book or a game appears on the App Store's "Top Charts," or on a bookseller's "bestseller" page so that more people see it, more people download it, and it maintains its rank — or at least stays on the chart.
E-books, as an increasingly popular form of media, seem especially susceptible to the bestseller cycle. People generally browse and buy e-books on the device where they'll read them, and make those purchases through an app or media store, which gives them recommendations in terms of bestseller lists, category pages, and sometimes curated sections.
In January, a Pew Research report found that 28 percent of U.S. adults read an e-book in 2013, up from 23 percent at the end of 2012. Almost half of readers under 30 read an e-book in 2013. While they read e-books on a wide variety of devices — e-readers, tablets, computers, and cell phones — only 4 percent read e-books only. (That's in spite of that fact that 42 percent of adults own tablets and 32 percent own e-reading devices like a Kindle or a Nook.) Even those who own a device dedicated to reading e-books still read print books as well.
So, given that people have a wider array of reading platforms than ever before, what do they read? Pew reported that the "typical" American adult read five books in 2013, while the average for "all adults" came out to twelve books. While many people choose those five to twelve books based on recommendations from friends, websites, or other sources, many casual readers look to bestseller lists that catalog the most popular books in print and digital formats. Perhaps going with books chosen by consensus for their accessibility, or the assurance that they must of decent quality, readers who choose to read a bestseller choose to read a book that everyone else is reading.
That begs the question: What's bestselling right now? Are the books that are bestselling on Apple's iBooks a different set of books than those that are bestselling on Amazon's (NASDAQ:AMZN) Kindle? How about the differences between those that are popular on Google (NASDAQ:GOOG) (NASDAQ:GOOGL) Play and on Barnes & Noble's (NYSE:BKS) Nook? What is "everyone" reading on each of those platforms?
It turns out that bestsellers do vary based on the e-book platform. How much depends on which platform is in question. So to start, let's look at Digital Book World's most recent data — for the week of July 5 — on the top 25 bestselling ebooks. The list includes sales by the six top retailers, Kindle, Apple, Nook, Google, Rakuten's (RKUNF.PK) Kobo, and Sony (NYSE:SNE), further explained in the list's methodology.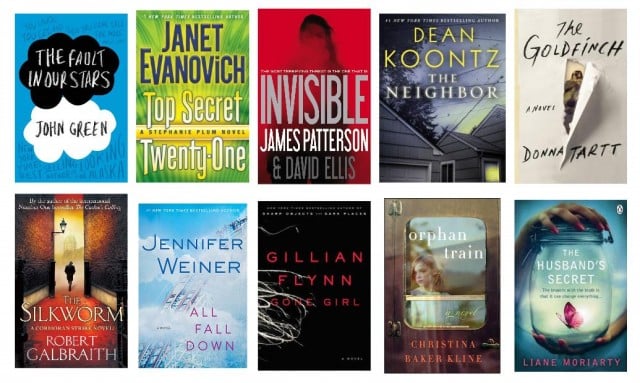 These are the overall standings of e-books going into the current week, the books that sold the most digital copies last week and headed into this week in a position of dominance (and within easy view of readers looking to reference the best-sellers lists for their buying decisions.) Five are sold by Penguin Random House, three by Hachette, one by Simon & Schuster, and one by Harper Collins.
However, the list doesn't answer the question: Which books are bestselling now? Mid-week, how is what I'm reading on an iPad likely to differ from what my friend is reading on a Kindle? On the next few pages are the current top ten bestsellers in iBooks, Kindle, Google Play, and Nook.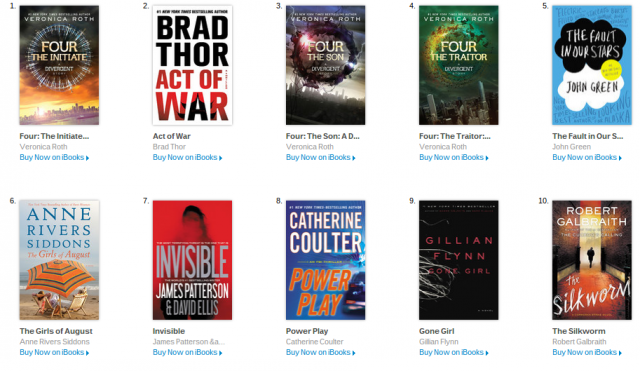 Apple's iBooks
These are the current top ten books, according to iTunes Charts. Three are sold by News Corp's (NASDAQ:NWS) Harper Collins, one by CBS' (NYSE:CBS) Simon & Schuster, three by Penguin Random House, and three by Lagardere's (LGDDF.PK) Hachette.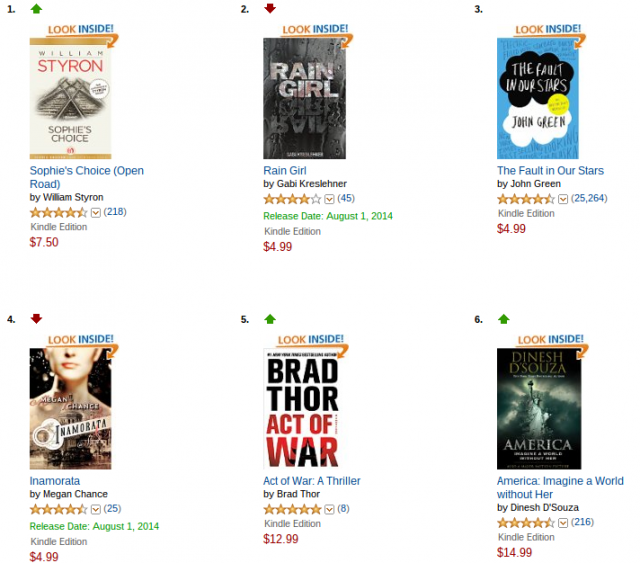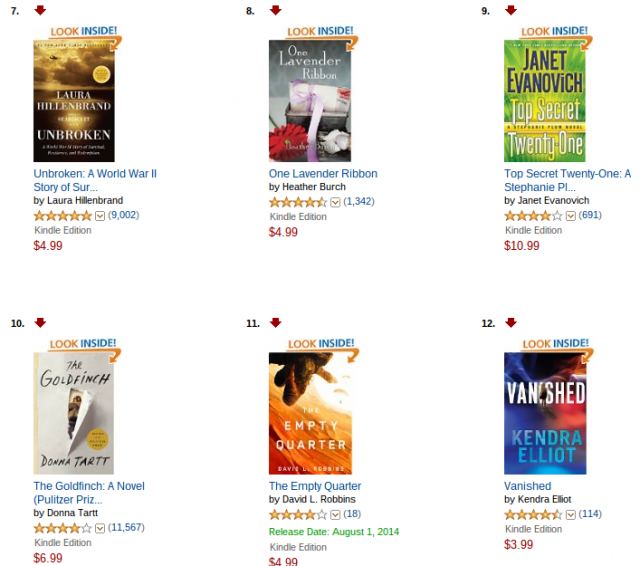 Amazon's Kindle
According to Amazon's Kindle store, here are the top ten bestselling Kindle books. A surprisingly high five are sold by Amazon Digital Services, three by Penguin Random House, one by Simon & Schuster, and one by Hachette.
Google Play
Google Play's current list of top selling books is the most unique list of the four, with only two books in common with other platforms bestsellers. Google Play's roster of publishers with bestselling books is also the longest and most diverse, with one sold by IDW Publishing, two by Penguin Random House, two by Hachette, one by Simon & Schuster, two by Harper Collins, one by Baker Books, and one by Zebra Books.
Nook Books
Nook's current bestsellers include many of the books that appear on other platforms' lists. In a similarity with Amazon, Barnes & Noble sells two of the bestselling books, with three sold by Simon & Schuster, two by Penguin Random House, one by Hachette, and two by HarperCollins.
So back to our original question: Do the e-books you read depend on which platform you read them on? That varies by the platform. Apple's list of iBooks bestsellers is the least unique, sharing all but one book with at least one of the other lists. Nook shares all but three with other platforms' bestsellers lists. Kindle falls exactly in the middle, with five books that appear only in its top ten, and five books that also appear in other platforms' top ten. Google Play is the platform with the most unique set of bestsellers, with eight books that are in its top ten alone and only two that also appear in the ranks of others' bestselling ten.
So if you're curious about what your e-reading habits say about you, here's the upshot: Across 40 potential spots (four platforms, ten bestsellers each) there are 33 different books that are currently bestsellers on one or more platforms. (That's not taking into account the books that were bestsellers last week; some of those haven't appeared on any of the current bestseller lists.)
While we haven't done any scientific analysis on which platform caters to which kind of reader — and would need a lot more data than the almost-anecdotal "current" bestsellers lists to do so, plus a way to account for the disparate user bases of each platform — it's interesting to note that if you buy your books from the iBooks bestsellers list, you're reading largely the same books as not only other iBooks readers, but also e-book readers across the four platforms.
If you buy Nook bestsellers, it's also pretty likely that your neighbors, office mates, or friends are reading the same books as you. Your odds of reading something unique go up some with the Kindle store, which currently has some books in common with the other platforms and some that are widely popular only on its platform. If you're reading Google Play bestsellers, then no one else (well, except for other Google Play users) are reading the same books as you.
But considering the nature of bestsellers lists, if you're reading the books on them, you're reading the same thing as everyone else. So even if you're reading a title that appears only on Google Play's list, don't worry — you're not alone. When consumers across four different platforms choose the same 33 books, it's pretty clear that while readers aren't all reading the same thing, they're also not all that different platform to platform — and the notion of bestseller is as alive and well as ever.
More From Wall St. Cheat Sheet: