As Bugs Delay Apple's HealthKit, Epic Tells How It Will Work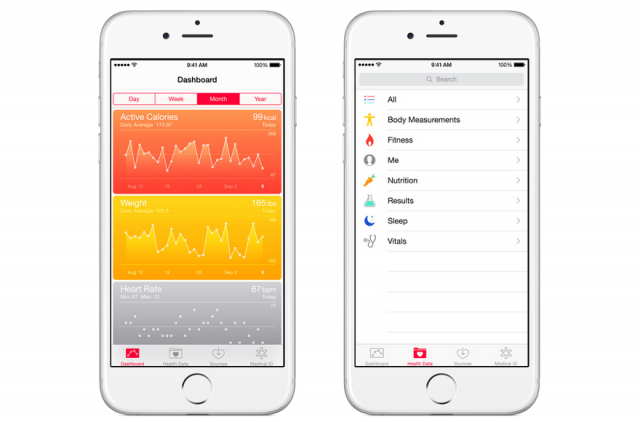 Apple launched its iOS 8 mobile operating system on Wednesday, but a significant feature of that release, the Health app, launched without the third-party health and fitness apps that rely on Apple's HealthKit framework. While the Health app on its own appears to function just fine, Re/Code reports that Apple spokesperson Trudy Muller said that the company is "working quickly to have the bug fixed in a software update and have HealthKit apps available by the end of the month."
Hundreds of developers, among them Carrot Fit, Lark, MyFitnessPal, Strava, Weight Watchers, WebMD, and Under Armour, were planning to introduce apps that would take advantage of the new capabilities of the iOS 8 operating system and the enhanced sensors built into the iPhone 6 and iPhone 6 Plus. Some were alerted that there apps had been put on hold, but they've still not been able to launch their apps, though the iPhone 6 and iPhone 6 Plus are available to consumers on Friday. Some were creating temporary versions of their apps to list in the App Store until the HealthKit issues are fixed. VentureBeat notes that while some developers conjecture that the "bug" might be related to data management issues, delaying the app until the end of the month could indicate problems with the way that Apple had planned to keep HealthKit data private and secure.
Though the HealthKit bug has delayed the launch of health and fitness-tracking apps, the tech world is getting its first glimpse of how HealthKit will become a powerful resource for healthcare providers and medical researchers.
Epic Systems, a dominant electronic health record (EHR) provider that's been working with Apple on the initiative, has begun to provide some details on how its clients — clinics, hospitals, and medical groups — will be able to improve their patient care by integrating HealthKit data into their clinical systems. VentureBeat has learned some of the details, with Epic president Carl Dvorak explaining to Mark Sullivan:
"Apple's HealthKit has tremendous potential to help close the gap between consumer collected data and data collected in traditional healthcare settings. The Epic customer community, which provides care to over 170 million patients a year, will be able to use HealthKit through Epic's MyChart application—the most used patient portal in the U.S."
The EHR will access HealthKit data via the MyChart app, not through a direct integration with HealthKit. With all HealthKit apps, consumers can use the Health app to configure their devices and apps to share data — stored on their iPhone — via HealthKit. HealthKit controls which apps send and store data, governed by user preferences and privacy rules. Epic spokesman Brian Spanger explained the flow of data from a device to the Epic EHR as follows:
"A consumer health app, like the Withings Scale, will notify HealthKit that it has a new weight and ask HealthKit to store that weight in the database on the iPhone. If the patient has given permission for the MyChart app on their phone to know about that data, HealthKit 'wakes up' the MyChart app and tells it there's new data. The MyChart app on the phone then transmits that weight back to the EpicCare EHR system where it can be used appropriately as part of the patient's medical care."
The iOS 8 Health app acts as the center of the ecosystem for consumers, and setting up MyChart to access and share the data collected by other apps will enable users to share deeper insights into their health with their physicians. Hundreds of clinics and hospitals use the Epic EHR, and patients can use the MyChart app to access their own records, including lab results, appointment schedules, current medications, and immunization history. As Epic explains on its website:
"Millions of patients access their records via MyChart – literally the same chart used by their doctors. Patients can schedule appointments, get test results and print growth charts. Epic's freestanding personal health record, Lucy, completes the circle, with an interoperable health diary that can plug into MyChart – or disconnect from it and inform care wherever the patient receives it."
HealthKit, empowered by integrations with dominant providers like Epic, could significantly improve the way that patients share information with their physicians, which in turn could improve the healthcare that they receive. It was recently reported that the Stanford School of Medicine will use HealthKit to track blood sugar in young diabetes patients, and the Duke University School of Medicine will track a variety of metrics in patients with cancer or heart disease. Others, including the Cleveland Clinic and the Mayo Clinic, are exploring ways to use the data in the treatment of patients with chronic medical conditions.
Putting aside the current bug, HealthKit still faces major challenges, among them how Apple will address the privacy and security requirements inherent with handling sensitive, personal data — including the challenges of HIPAA compliance — and how it will help partners to build and manage systems that make huge amounts of data useful in clinical settings. If initial trials prove HealthKit's ability to overcome those challenges, and its utility for meaningful clinical uses, a variety of developers, EHR providers, and healthcare providers could soon be collaborating on systems to get patient-generated health data into the hands of doctors — but only after bugs are fixed and HealthKit finally launches.
More from Tech Cheat Sheet:
Want more great content like this? Sign up here to receive the best of Cheat Sheet delivered daily. No spam; just tailored content straight to your inbox.