AT&T Beats Google to Expand Fiber Internet to North Carolina
In a move that steps up the competition to lay the groundwork for the high-speed Internet of the future, AT&T (NYSE:T) has beaten Google (NASDAQ:GOOG) (NASDAQ:GOOGL) to launch high-speed fiber Internet in North Carolina. The company recently announced that it has signed agreements with Raleigh, Winston-Salem, Durham, and Cary to rollout its U-Verse GigaPower fiber Internet. Rollouts for Carrboro and Chapel Hill are awaiting final approval.
AT&T says the fiber-based service will offer Internet speeds of up to a gigabit per second, which it says will enable users to download 25 songs in a second or an entire TV episode in less than three seconds. AT&T says that it is teaming up with the North Carolina Next Generation Network, an initiative by six municipalities and four universities, to bring high-speed Internet that AT&T says is ten times faster than what's currently available in the area. The Verge reports that the consortium issued a request for proposals in 2013,
In December, AT&T rolled out its first gigabit network in Austin, Texas. AT&T says that it plans to double the number of households with gigabit service in Austin, and will rollout the service to Dallas later this year. In April, AT&T announced that it was considering 100 cities for rollouts of the U-Verse GigaPower service. The major metropolitan areas under consideration included: Atlanta, Augusta, Charlotte, Chicago, Cleveland, Fort Worth, Fort Lauderdale, Greensboro, Houston, Jacksonville, Kansas City, Los Angeles, Miami, Nashville, Oakland, Orlando, San Antonio, San Diego, St. Louis, San Francisco, and San Jose.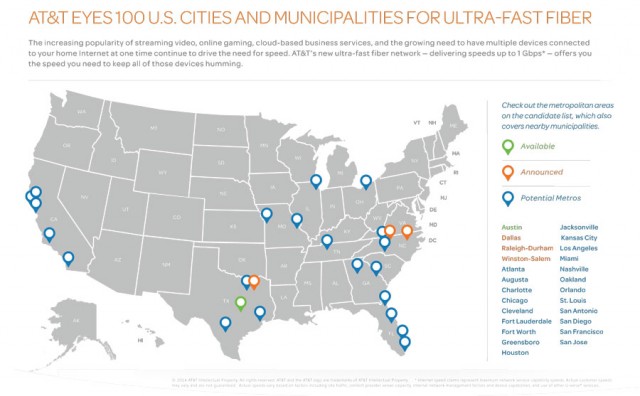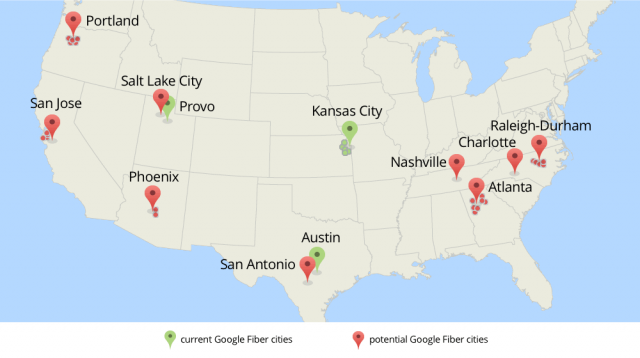 The North Carolina rollouts position AT&T in direct competition with Google, which numbers the Raleigh-Durham metropolitan area as one of the 34 cities it has engaged in "early discussions" for a rollout of its Fiber service. Earlier this year, it was unclear exactly how many of Google's target cities AT&T would also look to bring fiber service to. Now it looks like there will be healthy competition between the two in several markets, such as Atlanta, Charlotte, Nashville, and San Jose.
As plotted on Google's map above, Google Fiber has already launched in Provo, Utah, Kansas City, Kansas, and Austin, Texas. In Austin, AT&T's fiber service rolled out before Google's was available, even though it wasn't until after Google announced its plans to take Fiber to Austin that AT&T announced it would also build a gigabit network in the city. AT&T's relatively quick rollout in Austin shows that it has an advantage over Google; it already has existing infrastructure in place in the cities both companies will target for fiber service. AT&T has also quite literally put more cities and metropolitan areas on the map, and could use the speedier process of rolling out U-Verse with GigaPower as a customer gaining advantage over the slower spread of Google Fiber.
However, in the race to rollout high-speed fiber Internet service, the competition between Google and AT&T is ultimately good for the consumer, who will benefit by having two fiber providers operating in a given city, rather than just one monopolizing the service and space. So far, both companies have been slow to bring gigabit Internet service to new cities, as the process includes not only the actual installation of the necessary equipment, but even before that, extensive discussions and research to figure out which markets actually have the demand to support the service. But if the two companies succeed in making fiber service (relatively) widespread, instead of an exciting but isolated phenomenon, as it is now, they could stand to shake up the industry and grow to dominate as network providers.
More From Wall St. Cheat Sheet: