AT&T Gets Price Aggressive and 2 Telecom Stocks Seeing Action
MetroPCS Communications (NYSE:PCS): Current price $10.95
Analysts believe that Deutsche Telekom AG will probably have to sweeten the terms of its arrangement with MetroPCS Communications after a proxy advisory firm recommended that shareholders oppose the transaction. Corporate governance consultants ISS announced late on Wednesday that it supports the endeavors of two large MetroPCS shareholders to stop the firm's proposed merger with T-Mobile USA, the American unit of Deutsche Telekom. The largest shareholder, Paulson & Co, and another big holder P. Schoenfeld Asset Management had both committed to vote against the deal, on fears about the valuation and the amount of debt being assigned to the combined entity.

Leap Wireless International (NASDAQ:LEAP): Current price $5.82
Leap Wireless has commenced an offer for its convertible notes maturing in 2014. The firm is offering $1,005 in cash for each $1,000 in principal value of the notes, in addition to accrued and unpaid interest. The offer is subject to certain conditions, among which include one that specifies company unit Cricket Communications "shall have consummated the borrowing of term loans under its delayed-draw incremental term loan facility." Overall, the issue has a total principal amount of $250 million. The notes carry an interest rate of 4.50 percent. This according to The Motley Fool.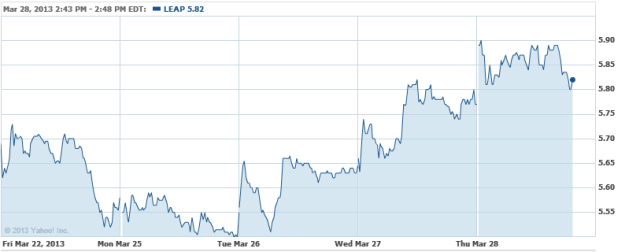 AT&T (NYSE:T): Current price $36.73
AT&T has moved the base price of the Samsung Galaxy S 4 up by $50 over its predecessor and Apple's (NASDAQ:AAPL) iPhone 5. The Galaxy S 4 will go for $250 on AT&T with a two-year contract, and will be available for pre-orders beginning April 16. AT&T has yet to announc an actual release date for Samsung's next flagship phone. T-Mobile is the only other domestic carrier to announce Galaxy S 4 pricing thus far. Under the carrier's new subsidy-free plans, it will be available May 1 for $99 up-front, plus $20 per month for two years.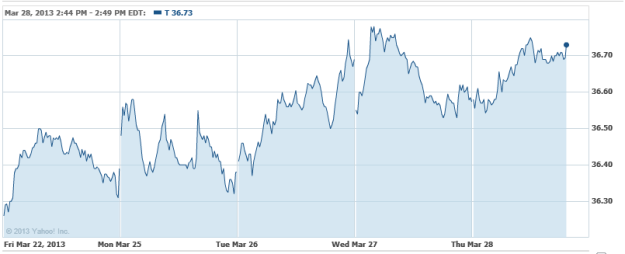 Investing Insights: Is Verizon Overvalued?