AT&T May Get Way With Government and 2 Telecom Stocks Seeing Action
AT&T (NYSE:T): Current price $37.57
This week, the United States House Intelligence Committee could pass a cybersecurity proposal that gives lawsuit immunity sought by firms including AT&T and The Boeing Company (NYSE:BA), and modifies privacy provisions to overcome a veto threat, according to Bloomberg. Committee Chairman Mike Rogers (R-MI) and C.A. "Dutch" Ruppersberger (D-MD), are considering changes in the bill they first introduced in 2012. They would include provisions mandating that the government to make data more anonymous and restrict how it can be used, said two people who described a committee staff call briefing United States Chamber of Commerce members in April.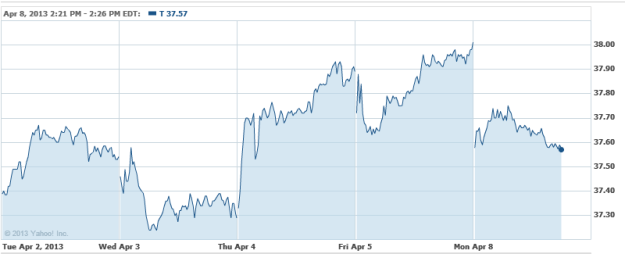 Verizon Communications (NYSE:VZ): Current price $49.24
By the end of 2014, all of New York City to be connected with fiber-optic wires, according to the current plan. Now there is a new manner through which to get this done without getting in people's way, CBSNews said. Since the early 1900s, wiring the city necessitated giant saws cutting trenches in the streets, disrupting traffic and parking for days but on East 7th Street between Avenue C and Avenue D, Verizon's Executive Director for National Operations, Chris Levendos, showcased off the new way they are accomplishing the job. This generation's fiber-optic cables are so small they can fit in a microtrench, one inch right in the edge of the sidewalk.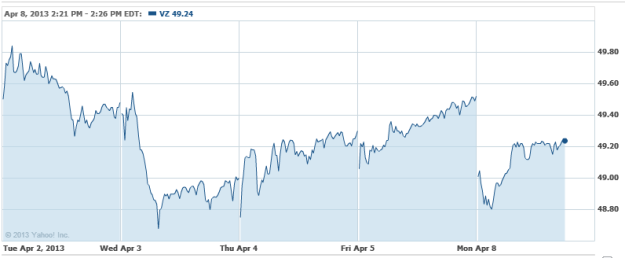 Vodafone Group (NASDAQ:VOD): Current price $28.53
In order to bring 4-gigabyte services to Australia, Vodafone has announced that it will finally introduce its own LTE in June. The majority of the network will center around Sydney and Perth, and the citizens of Melbourne, Adelaide, Brisbane, Newcastle, Wollongong, and the Gold Coast can expect "some coverage" for the present. The firm has not reported what it will do about charging for the new services, but current Vodafone customers with LTE-capable handsets, can expect that the devices will be activated alongside the national launch.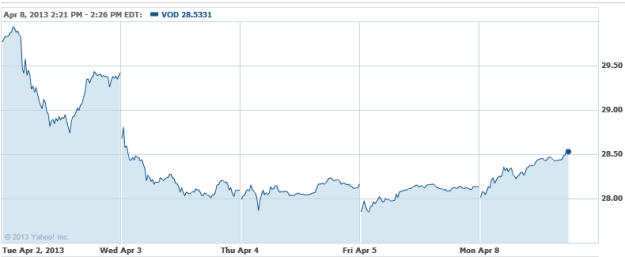 Don't Miss: Can BlackBerry Play David to Apple's Goliath?