Attack of the Drones: Amazon and UPS Want to Get Rid of the Delivery Man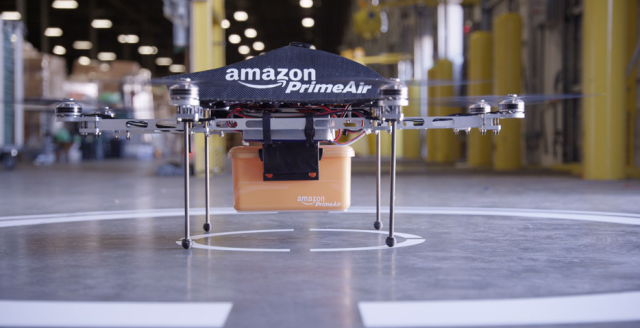 Apparently Amazon.com Inc. (NASDAQ:AMZN) isn't the only company experimenting with using unmanned drones to quickly deliver packages. The United Parcel Service (NYSE:UPS) has said that it is also in the process of creating its own delivery drones, according to a report from The Verge.
Sources familiar with the matter told The Verge that UPS has been experimenting with and testing different types of drones with the ultimate goal of using the unmanned aircraft to make speedy package deliveries. "The commercial use of drones is an interesting technology and we'll continue to evaluate it. UPS invests more in technology than any other company in the delivery business, and we're always planning for the future," a spokesperson for UPS told The Verge. Amazon has been making headlines since Sunday when the company officially revealed its own experiments with drone technology that would be used for a service called Amazon Prime Air, which would deliver packages to customers within 30 minutes.
Amazon CEO Jeff Bezos talked about the project in an interview with Charlie Rose on Sunday night and the company released a video of a test flight of one of the drones. Bezos himself admitted that it would be many years before the technology is up to snuff and regulations about unmanned aircraft are updated to allow the drones to fly through residential areas like the one featured in Amazon's video. Some have accused Amazon of conveniently unveiling its drone plans on the eve of Cyber Monday as a publicity stunt.
Drone expert Ryan Calo explained to the Washington Post on Monday that current unmanned drones can only fly for about 15 minutes and carry very light loads, which would put you out of range for such deliveries unless you live extremely close to one of Amazon's fulfillment centers. That technology would need to be dramatically improved before such an option could really be of use to anyone.
Calo seemed to have higher hopes for UPS's use of unmanned drones than Amazon's pipe dream of using them to make deliveries to customers' front lawns. Speaking to The Verge, Calo said, "A company like UPS could use drones to bring packages quickly and cheaply from a major airport or city to pick-up centers in more remote locations, speeding up delivery for a lot of customers."
FedEx Corp. (NYSE:FDX) founder Fred Smith has also said in the past that he'd like to transition to using unmanned drones to make deliveries, which would make deliveries faster and cut down on costs. While we still seem to be a long way off from seeing drones make package deliveries on our front lawns, sometime in the not-so-distant future delivery man may be another job lost to machines.
Follow Jacqueline on Twitter @Jacqui_WSCS
Don't Miss: Amazon Ignored By Supreme Court.