AT&T's Assistant App Has a Leg Up on Siri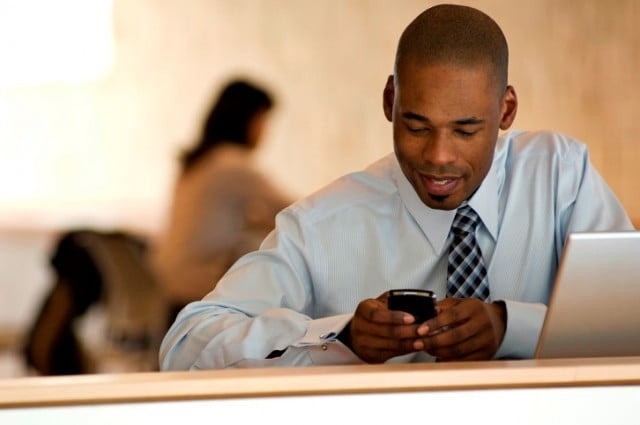 Current virtual assistants like Siri and Google Now have grown proficient at providing factual information, like search results and flight times. But the smarter virtual assistants of the future are likely to be much more personal, and able to handle details like helping you manage your personal life. A prototype app called Contax, developed by researchers at AT&T, analyzes users' communication patterns to figure out who matters most to them, and may be an important step toward assistants that can deliver factual information as well as smart analysis of how we use our smartphones everyday.
Andrew Rosenblum reports for MIT's Technology Review that Contax analyzes users' call logs and text messaging patterns to figure out which are their most important relationships. The app rates contacts on qualities like the strength of the relationship, physical proximity, and the patterns of users' communications with each contact. Users can assign contacts to groups, from the usual "family" and "friends" to custom groups like "project team." Instead of displaying an alphabetized list of hundreds or thousands of names, Contax curates what it calls the user's "Social Circle." A graphic shows between three and nine people that the app judges the user is most likely to want to contact at a given moment, given his or her past behavior.
Rosenblum notes that the exact collection of people in a user's Social Circle might differ between workdays and weekends, and could vary based on the time of day. The objective is that when the user pulls out his phone to text or call someone, Contax will have that contact accessible with just a tap. The app can also proactively suggest that the user call or text someone. While the current version of Contax is accessed through the phone's browser, AT&T says that it could be turned into a downloadable app.
As AT&T's "Innovation Showcase" website explains, "it's becoming increasingly difficult to manage the context behind the people in our network," and Contax has been developed for the smartphone, tablet, or even a computer to offer users a personalized and accessible method for "modernizing the address book."
Yoav Shoham, a Stanford computer scientist who cofounded Timeful, a company that makes a smart calendar app, tells Technology Review that the digital equivalents of an address book still function in much the same way that their paper predecessors did. Shoham says, "Almost without exception, every address book has as a default an alphabetical list of your contacts. That's ridiculous!"
Chris Schmandt, who directs the Living Mobile Group at the MIT Media Lab, notes that building an accurate picture of people's relationships with their contacts requires gathering clues from multiple modes of communication, explaining, "Much of our communication spans multiple media. I may have stopped sending someone e-mail because we use Facebook, for example, while with someone else, I may only text them when they are in town, but I will always want to get together." While Contax currently only draws on call logs and text messaging patterns — and a setting in the app that enables users to share their location with others using it — AT&T says that in the future it could incorporate other forms of communication, like email or social media.
The team behind Contax is currently in the process of pitching the tool to various divisions of the company, to see which might be interested in rolling it out as a product. In a piece on how AT&T is opening up its innovation process to encourage employees to participate, the Wall Street Journal's Rachael King reports that several projects that started as ideas from AT&T employees were showcased at a Palo Alto event in November. Since 2009, employees have submitted more than 28,000 ideas to an online platform called The Innovation Pipeline, where they can vote for ideas. Once per quarter, leaders meet to hear presentations from those behind the top four ideas, and to decide whether to grant seed funding to create prototypes.
To date, AT&T has allocated $44 million to fund ideas that range from customer service enhancements to completely new technologies, and more than 75 projects have been funded for development. Generally, the employee behind the initial idea is paired with others who can help build the prototype, and once a prototype is completed, the projects are eligible for a second incubation period to move ideas into production. Mentors, whom AT&T calls "champions," advise on budget allocation and help employees to move ideas toward launch. This culminates in a final commercialization stage, where ideas can be implemented by an AT&T business unit, spun off into an external company, or sold to a third party.
In 2013, a lead member of AT&T's technical staff, Randy Wohlert, came up with an idea to automatically organize a person's mobile contacts based on their behavior. He collaborated with others, including Matthew Austin, a senior product marketing manager, and presented the idea to senior executives. King reports that the group received an unspecified amount of seed money to begin the project in January. The software combines the intelligence of AT&T's software-defined network architecture with a contact prioritization algorithm in order to automatically identify and organize relationships. If a user plays a tennis match every Tuesday, for example, Contax can prompt the user to call or text his opponent to confirm the match.
More capable virtual assistants are becoming less of a science fiction concept and more of a concept that researchers and developers can tackle. The area of research into building smarter virtual assistants is quickly overlapping with research into artificial intelligence. And while many tech enthusiasts dream of a version of Siri or Google Now that would be distinctly more intelligent, even more like a human, the virtual assistants that are most likely to be developed in the near future are those that, like Contax, take a smarter look at the things we do everyday on our smartphones and find a way to make them more functional, more personal, and easier to use than ever before. Contax demonstrates that these seemingly simple mobile tools can become more powerful as they gain the ability to learn more about us and our relationships.
More from Tech Cheat Sheet:
Want more great content like this? Sign up here to receive the best of Cheat Sheet delivered daily. No spam; just tailored content straight to your inbox.