Awkward: Apple's Tim Cook Outed by Clueless TV Show Host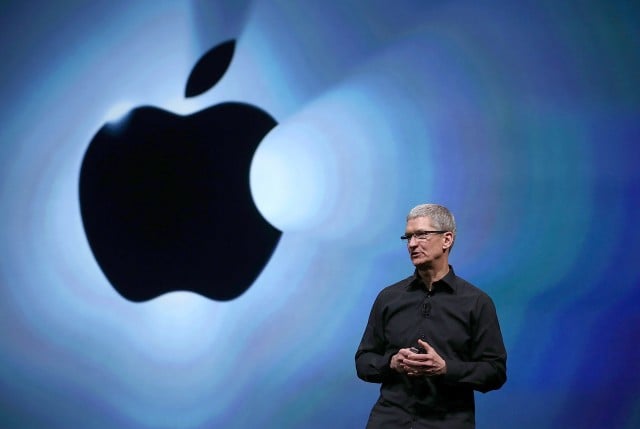 In a segment that will surely go down in the annals of awkward live television moments, Apple's (NASDAQ:AAPL) Tim Cook was mistakenly named as a CEO who publicly identifies himself as gay during a recent discussion on CNBC's "Squawk on the Street" program. The gaffe occurred during a discussion with The New York Times columnist James Stewart, who was there to talk about an article he wrote on John Browne, the former CEO of oil multinational BP (NYSE:BP). Browne, who recently wrote a book titled, The Glass Closet: Why Coming Out Is Good for Business, famously resigned from BP after he was outed by a British tabloid.
The discussion soon turned to the noticeable lack of high-profile CEOs that publicly identify themselves as gay. Stewart noted that he was surprised to discover that Browne was "the first person ever at a Fortune 500 or FTSE 100 company to publicly acknowledge that he is gay." As pointed out by Stewart, this is surprising in light of all the advances that have been made in civil rights and especially considering that CEOs are essentially measured by one objective criterion: financial performance. "We even have pro football players on television acknowledging they're gay," said Stewart.
Unfortunately, as noted by Stewart in his article on Browne, this openness does not appear to have reached the boardroom level at many companies, despite the lip service paid to inclusiveness and equality. "Of course, there are gay CEOs at major companies," said Stewart on CNBC. "I reached out to many of them and I have to say I got an extremely cool reception. Not one would allow to be named in the column."
Then, to correct what he presumably thought was an oversight on Stewart's part, co-host Simon Hobbs interjected, "I think Tim Cook is fairly open about the fact he's gay at the head of Apple, isn't he?" After a brief stunned silence from the other co-hosts and a "no" answer from a dismayed looking Stewart, Hobbs quickly realized his mistake and made a half-hearted attempt to wipe the egg off his face. "Oh, dear, was that an error?" asked Hobbs. "I thought he was open about it."
As the panel discussion devolved into speculation, Stewart shut down the discussion by stating, "I don't want to comment about anybody who might or might not be. I'm not going to out anybody."
While Hobbs was incorrect to name Tim Cook as a CEO who has publicly identified himself as gay, there has been plenty of speculation about the longtime Apple executive's personal life. However, Cook is an intensely private individual and very little is known about his personal life. Despite never publicly identifying himself as gay, Out Magazine gave Cook the No. 1 spot on its annual Power List of "the gay men and women whose power and prestige is instrumental in influencing the way Americans think about, and engage with, the world."
While some CEOs may be reluctant to publicly identify themselves as gay due to hostile corporate cultures, it should be noted that Apple has been especially progressive in its policies on workplace equality. Last year, Cook penned an op-ed for The Wall Street Journal in support of the Employment Nondiscrimination Act, or ENDA, that seeks to end employment discrimination against lesbian, gay, bisexual and transgender workers. Last December, in an acceptance speech for a Lifetime Achievement Award from Auburn University, Cook noted that Apple is a company that believes in "advancing humanity through its products and through the equality of all of its employees." Last week, Cook reiterated his support for ENDA in a tweet that also applauded the White House's decision to ban LGBT discrimination at federal contractors.
Although speculation about the personal life of a high-profile executive such as Cook is perhaps inevitable, most Apple watchers are more concerned with what columnist James Stewart rightly identified as the only criterion that should matter for a CEO: financial performance. While some investors have raised concerns about a lack of innovation at the Cupertino-based company during Cook's tenure as CEO, as noted by the Times of India, Apple has seen its annual revenue grow by about 58 percent and its profits by about 40 percent since Cook took over in late 2011.
More from Wall St. Cheat Sheet:
Follow Nathanael on Twitter (@ArnoldEtan_WSCS)