Ballmer: Google's a Monopoly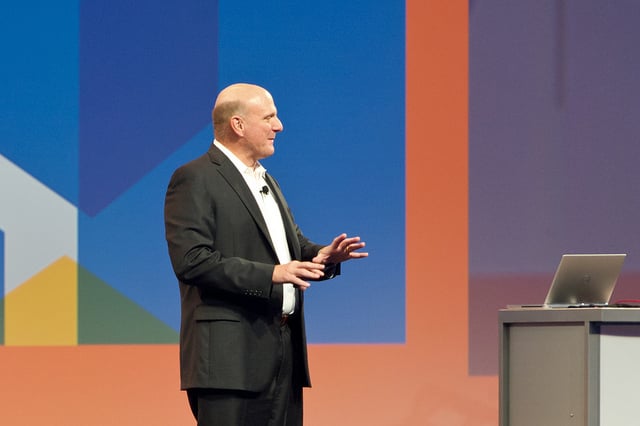 Microsoft (NASDAQ:MSFT) Chief Executive Officer Steven Ballmer vented some frustrations about rival Google (NASDAQ:GOOG), which he called a "monopoly," at Microsoft's meeting with investors on Thursday, according to a report from the Verge.
Ballmer said of Microsoft's Bing that "we are the only person left on the planet trying to compete with" Google's search business. Bing is the second most-used search engine in the U.S. with a 17.9 percent of search share. It's a distance second place, as Google has almost 67 percent. Bing's growth in market share has also eaten away at rivals Yahoo (NASDAQ:YHOO) and AOL (NYSE:AOL) rather than Google.
"I do believe that Google's practices are worthy of discussion with competition authority, and we have certainly discussed them with competition authorities," said Ballmer. "I don't think their practices are getting less meritorious of discussion."
Ballmer's hinting at an investigation by the European Commission into Google's search business, which has been accused by European authorities of being anticompetitive. Microsoft is among the companies in a lobbying group called Fairsearch, which has accused Google of blocking competition in order to retain an 80 percent hold on the European search market.
Google has made some antitrust concessions to the European regulator in an attempt to avoid a $5 billion fine, but so far its concessions haven't done enough to reduce its stranglehold on the search market. Google has been accused of promoting its own services over rival ones and even stealing content like business reviews from other sites without permission.
Google presented a series of concessions to the Commission back in April, which included distinguishing its own products from those of its rivals in its search results, giving links to at least three rival sites in any given search, and allowing its advertisers to place ads on rival sites as well. Those were determined to not do enough, and Google had to submit new proposals at the beginning of the month.
Ballmer seems to be hinting that he believes Google needs some extra scrutiny in the States as well. At the beginning of the year, a settlement over similar complaints against Google was reached with the U.S. Federal Trade Commission. That settlement was called "weak" and "unusual" by Microsoft. Ballmer wrapped up his comments on the matter with optimism about Microsoft's chances to chip away at Google's dominance.
"That advertising marketplace right now, Google has pretty well defensed," Ballmer said. "But I think we've got a pretty good attack strategy. It will take a little bit more time, and a little bit more patience. I think it will have great economic return for our shareholders, and at the same time changes a lot of the competitive dynamics overall between our companies."
Follow Jacqueline on Twitter @Jacqui_WSCS
Don't Miss: What Is Ballmer's Biggest Regret at Microsoft?