Best Buy Takes a Post-Holiday Plunge After Disappointing Sales Results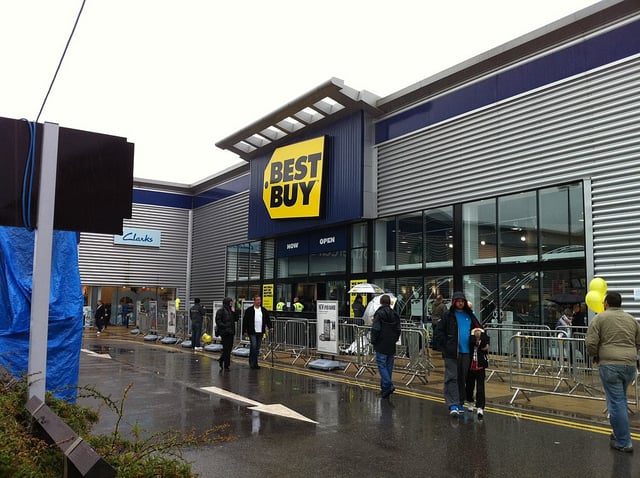 Best Buy (NYSE:BBY) closed the trading week down more than 36 percent after the big-box electronics retailer revealed on Thursday that it had suffered an unexpected holiday season sales drop. During the nine-week period that ended on January 4, domestic comparable store sales fell 0.9 percent compared to the year-ago period, while international sales rose 0.1 percent. As noted by Barron's, most analysts were anticipating a 2 percent gain. Best Buy finished the week at $24.43, nearly 40 percent down from its fifty-two-week high of $44.66.
Best Buy president and CEO Hubert Joly cited "aggressive promotional activity," supply constraints, declining store traffic, and a disappointing mobile phone market as reasons for the sales decline. As noted by Barron's, Best Buy slashed its prices during the holiday season in an effort to draw shoppers away from big-box retail rivals like Wal-Mart (NYSE:WMT), as well as online competitors like Amazon (NASDAQ:AMZN).
Joly noted that Best Buy's promotional activity "resulted in a market share gain in an industry that NPD says declined 240 basis points during the holiday period." On the other hand, the deep price cuts also failed to boost "industry demand and had a deflationary impact on our revenue."
Despite the negative impact the aggressive promotional activity is having on the company's revenue, Best Buy's management says it will continue its pricing investments for now. The company is also increasing its focus on online sales.
Best Buy's online sales increased by $200 million, a 23.5 percent year-over-year growth rate. Although Best Buy management called its online sales boost a "bright spot," increased online sales might also portend the eventual obsolescence of Best Buy's business model as big-box retailers slowly devolve into product showrooms for online shoppers.
Belus Capital Advisors CEO and chief equities strategist Brian Sozzi remained unimpressed with the company's strategy after participating in the conference call with Best Buy's management team. "There was nothing on the conference call [between management and analysts] to hang our hat on," Sozzi told Barron's. "Over the next few days you will see earnings estimates come down drastically and more negative notes that put more pressure on the stock."
Wedbush Securities analyst Michael Pachter reiterated an "Underperform" rating and a 12-month price target of $18 following the company's holiday results. Like Sozzi, Pachter noted that he also has "doubts about the sustainability of Best Buy's turnaround plan."
While some analysts believe that Best Buy's decline in stock price is an opportunity for investors, others believe it was a long overdue reality check for an overvalued stock. "When you see a stock down 30 percent in a single say [sic] you don't necessarily rush to buy it," noted Sozzi via Barron's. "The market is trying to tell you something and you should listen."
Best Buy is scheduled to reveal its fiscal fourth quarter results on February 27. Here's how Best Buy traded on Friday.
Follow Nathanael on Twitter (@ArnoldEtan_WSCS)
More from Wall St. Cheat Sheet: