Bill Gates Wants to Talk Corporate Tax Dirt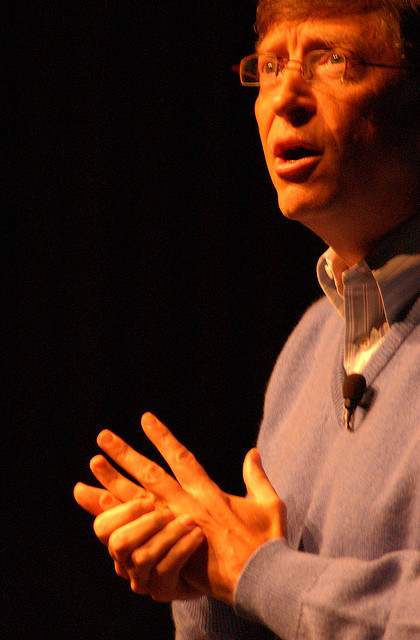 Microsoft (NASDAQ:MSFT) co-founder Bill Gates was the latest to add his voice to those opining about tax laws, and the ways the major corporations have been able to evade paying taxes while still maintaining that they obey all tax laws.
On May 21, Apple (NASDAQ:AAPL) Chief Executive Officer Tim Cook was brought in front of the Senate's permanent investigations subcommittee to discuss the company's tax practices and the tax rules in general. The discussions were tense for Apple, as it been suggested that the company has sheltered tens of billions of dollars from taxes by keeping the money out of the country and seeing that it flows through certain subsidiaries that are in regions with low taxes, like Ireland.
Apple hasn't been the only company facing scrutiny, and the U.S. hasn't been the only country scrutinizing. Amazon (NASDAQ:AMZN) was reported to have only paid $3.7 million in taxes on $6.5 billion in sales in 2012 — a rate of less than 0.1 percent. Google (NASDAQ:GOOG) was in a mess of trouble in France and had its French offices raided in 2011 to see if it truly hadn't conducted tax-liable sales work. Afterward, it was asked to pay 1.7 billion euros in back-taxes. Hewlett-Packard (NYSE:HPQ) was called out for setting up chains of loans in a scheme to use foreign subsidiaries' cash in the U.S. without paying repatriation taxes. Microsoft was also called into question for the channels it used to draw income on its intellectual property.
U.S., U.K., and European Union government officials have all been taking a close look at the activities of these major corporations that operate across many countries' borders and have money flowing all around the world. While the U.S. officials spoke with Tim Cook last week, EU officials subsequently met to discuss legal and illegal tax evasion.
While the euro zone has been experiencing financial crisis, it was troubling to hear that the region could have been missing out on as much as 1 trillion euros a year because of tax avoidance schemes. The schemes not only damage the countries that miss out on significant tax revenues, but they can also be anti-competitive, as many smaller companies would not have the resources necessary to operate large tax-avoidance schemes, giving the bigger companies an unfair — and potentially unlawful — advantage.
Despite the scrutiny that all these companies are under, and the findings of the governments, many of the companies continue to say that they are following the tax laws in whichever countries they are based. That may be true, but Republican Senator John McCain said that these companies were still violating "the spirit of the law."
Bill Gates suggested that a discourse on tax laws and tax practices between companies and governments could be beneficial, adding that tax collection methods and structures should be scrutinized. It may no be simple process to change tax laws, and there are inherent risks — new loopholes could come up, or companies could abandon countries altogether in favor of regions with lower taxes.
British Prime Minister David Cameron emphasized the cooperation by various nations that it would take to see the tax laws effectively changed. To close down loopholes, countries would have to work together and understand one another's laws, which could be a time-consuming task to get done right.
New laws could have a huge effect on many of these big companies. Google has been popping up on the radar in several countries, and has claimed to follow the tax laws in each place almost without fail. Though it may be following the laws and exploiting loopholes, it and other companies could find following the law and actually paying the intended tax rates more burdensome in the future.
Follow Mark on Twitter (@WallStMarkSheet)
Don't Miss: Can Google Appease EU Regulators In Competition Probe?