BlackBerry Enlists New Executive to Run Devices Division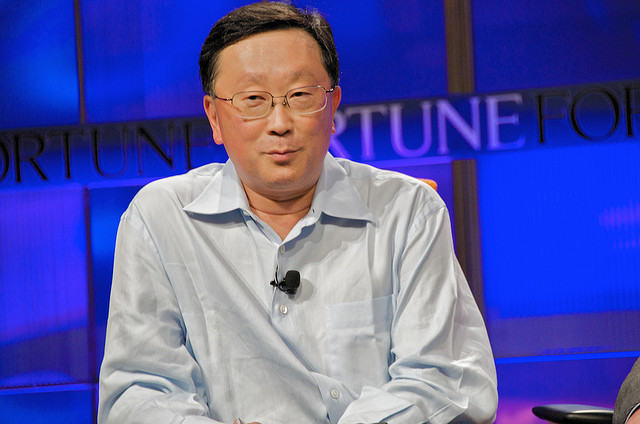 BlackBerry (NASDAQ:BBRY) shares were rising Monday, sitting up 3.57 percent at $7.88 as of 11:20 a.m. after the company's CEO John Chen announced that Ron Louks will join BlackBerry as president of devices and emerging solutions. Louks, formerly an employee of HTC Corp and Sony Ericsson (NASDAQ:ERIC), will report directly to Chen, and the CEO maintained Monday via Seeking Alpha, "I am pleased to add another outstanding addition to BlackBerry's executive leadership team with the announcement of Ron today. I am confident that Ron will bring the skills and expertise that will make an immediate impact to BlackBerry and to our customers around the world."
The appointment of Louks reflects just one more step in Chen's plan to restructure management at BlackBerry, and hopefully get the struggling smartphone maker back on its feet. Bloomberg reports that Louks most recently served as CEO of the OpenNMS Group, following roles as chief strategy officer at HTC America and chief technology officer at Sony Ericsson, and now, the new executive will be in charge of resurrecting demand for the company's smartphones after years of battling market-share losses.
Chen says, "Ron will focus on BlackBerry's long-term product roadmap, including hardware, software and design, as well as the Company's joint development efforts. A good deal of Ron's time will be spent with customers, carriers, and partners. On our path to return BlackBerry to profitability, nothing is more important than remaining deeply connected to our customers, and designing and delivering secure products that exceed their expectations."
Chen will now head into the new year with big expectations for BlackBerry, even though the Waterloo, Ontario-based company experienced a turbulent 2013. After a brush with bankruptcy this fall, Chen took over the reigns of BlackBerry in November, and has since appointed many executives from his former company, SAP AG, to serve as the company's new directors of enterprise services, corporate strategy, and marketing.
According to Bloomberg, Chen also recently signed a deal with Foxconn Technology Group to outsource the manufacturing and design of BlackBerry phones. The deal is a five-year agreement and is expected to help BlackBerry navigate the costs of its struggling manufacturing operations. Consumers, analysts, and investors have been surprised to see BlackBerry so reluctant to give up its hardware division, but this deal with Foxconn at least lets it avoid its past problems of accumulating too much inventory and paying for a lack in demand.
More From Wall St. Cheat Sheet: