BlackBerry's Too Quick For Apple With This Special Client
BlackBerry (NASDAQ:BBRY) may have lost ground in the wider enterprise smartphone market over the past years, but there is one niche market where it has finally caught a break. BlackBerry beat rival smartphone makers Samsung (SSNLF.PK) and Apple (NASDAQ:AAPL) in getting its Pentagon security clearance approval for its latest smartphone iteration.
Although BlackBerry already had security clearance for its older models, this latest Pentagon approval extends the security clearance to its new Z10 and Q10 models, as well as its PlayBook tablets. All of these models run its revamped BlackBerry 10 operating system.
Both Apple and Samsung are still waiting for security clearance approval from the Defense Information Systems Agency, or DISA, the agency that oversees approval of devices for Department of Defense use. However, the Department of Defense has also indicated that Apple's approval is likely to come early this month.
Samsung is also waiting for DISA to sanction its Galaxy device for government use. Samsung beefed up the security of its Android-powered device for government use by adding its Knox security software.
In the meantime, BlackBerry will continue to try to grow its already dominant presence in the small, but prestigious government smartphone market. Senior vice-president of BlackBerry Security, Scott Totzke, states "BlackBerry 10 is ideal for our government customers because it offers a rich, highly responsive mobile computing experience, along with BlackBerry's proven and validated security model — a combination that's unmatched in the industry."
The chart below compares how BlackBerry and Apple have traded so far this week.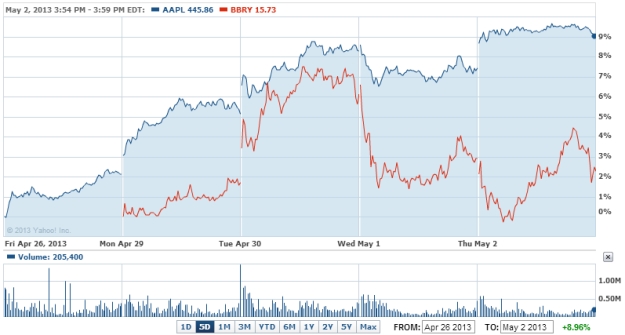 Here's how Apple traded on Friday: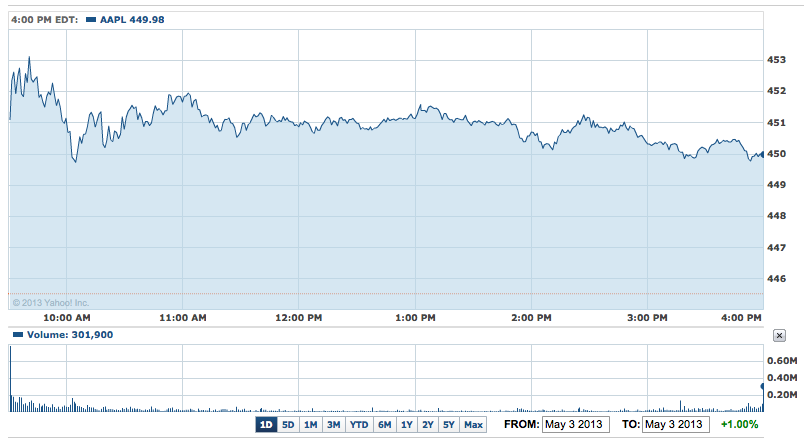 Don't Miss: Break Out the Party Hats, Apple's About to Celebrate.