Bleeding BlackBerry Offers This Latest Buyout Incentive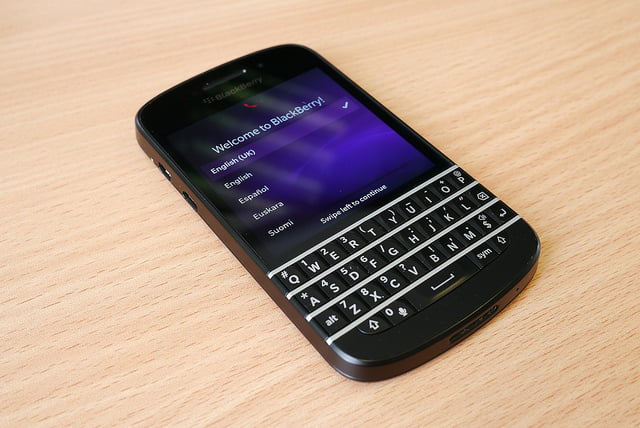 BlackBerry's (NASDAQ:BBRY) breakup continues to be a turbulent one, and recent reports show that the Canadian tech company is willing to go to great lengths to expedite the process, even if it requires a pretty payout.
Last week, we learned that BlackBerry's biggest shareholder, Fairfax Financial Holdings, signed a letter of intent for a $4.7 billion buyout. It was undoubtedly a step in the right direction for the struggling tech company, but considering Fairfax CEO Prem Watsa still has yet to obtain financing or recognize interested partners for the deal, BlackBerry still has a long way to go, and now it is reportedly ready to help speed up the process.
According to Bloomberg, BlackBerry has agreed to pay Fairfax a $157 million breakup fee for a tentative takeover offer. Such a deal could encourage Fairfax to move more quickly to obtain financing and confirm the buyout, but it could also deter rival bidders — and that's a risk BlackBerry is willing to take.
The company released its most recent set of damning earnings reports last week, and the reports illuminate that BlackBerry's business situation is even worse than expected. The Canadian smartphone maker's sales missed analyst expectations by half, plunging 56 percent to $610 million for the three months through August.
Now, BlackBerry can only focus on its business customers as other interested consumers drop off, along with its own workforce as it anxiously awaits more buyout prospects, or at least more encouraging evidence that the Fairfax deal will eventually go through.
BlackBerry's agreement to sign the significant breakup fee with Fairfax is unusual, Bloomberg  says, but it reflects just how desperate the company is to get a deal off the ground. The publication explained the terms of the fee's agreement and highlighted its risk, pointing out that if a higher bid does come along, Watsa not only gets the $157 million termination fee, but he also can still cash out on his 10 percent holding.
Thus, while it may not be an ideal agreement for BlackBerry, it's certainly optimal for Watsa, and now the company will have to wait and see if it's made to regret its decision.
If Fairfax backs out of the agreement, BlackBerry will owe the Toronto-based insurance company a fee of 30 cents per share, or about $157 million. On the other hand, if the smartphone company and Fairfax sign a transaction, that fee rises to 50 cents per share, or about $262 million.
The problem for BlackBerry, though, is that as of now, it has no other options. Especially after its most recent earnings, bidders have shown little to no interest in the foundering company, and firms reportedly have little confidence in BlackBerry's future business plan. According to Bloomberg, the Ontario Teachers' Pension Plan and the Alberta Investment Management Corp. have held preliminary discussions with Fairfax about its bid, but neither are interested in funding the whole company.
Known as Canada's Warren Buffet, it is somewhat surprising that Watsa has yet to encourage any interested buyers, but at least this last effort will allow his company to get a so-called "free look" at the buyout prospect, as one analyst describes it, and then BlackBerry can move on from there.
Don't Miss: Nokia's Rumored Tablet Is Now FCC Approved.