Breaking Tweet: Social Networks Take Over the World of News Sharing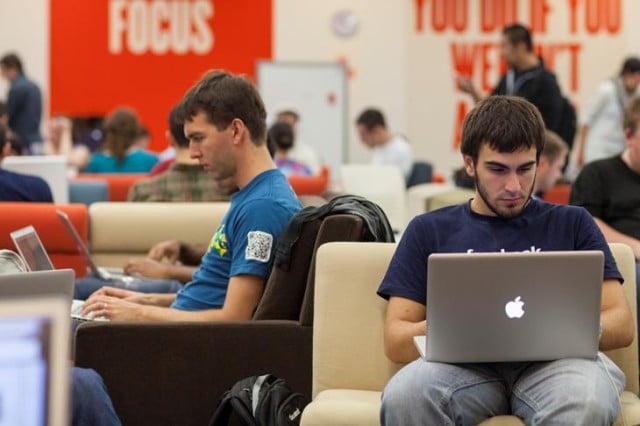 Thanks to the collection of social networking sites that now populate the Web, consumers get their news in a variety of ways. Long gone are the days when we turned on the local news after dinner to receive the latest reports, because why rely on traditional news anchors when we have Facebook (NASDAQ:FB) friends who do the job so well?

Ever since the rise of social media, many analysts have been interested in learning just how many consumers rely solely on social media sites to receive their news and how many still collect it on so-called traditional platforms. The Pew Research Journalism Project, comprised of researchers at the Pew Research Center in collaboration with the John S. and James L. Knight Foundation, took it upon itself to find and answer. Researchers analyzed the characteristics of news consumers and the size of their population across 11 social networking sites.
The researchers found that, unsurprisingly, Facebook is the largest social networking site among U.S. adults and is also the most popular when it comes to getting news. Almost 64 percent of U.S. adults use the site, and about 30 percent use the platform to get their news. Twitter (NYSE:TWTR), too, is a popular choice when it comes to getting breaking stories, and half of its users also get news on the microblogging platform.
Unlike Facebook and Twitter, though, not all social media sites are unanimously employed to share news: Only a fifth of YouTube (NASDAQ:GOOG) users get their news there. Though the music-sharing service now reaches more than 50 percent of U.S. adults, its visitors don't rely on it as a source of news.
Looking at the Pew Center's results, it is also clear that Reddit stands out — although the site doesn't have as large an audience as others in the study, it is a major news source for those that do visit it. According to Pew, Reddit is a news destination for nearly two-thirds, or 62 percent, of its users. This is a significant majority, but only 3 percent of the U.S. population uses Reddit, and it's therefore still not considered a major hub for people to get their news. The same can be said for Twitter, considering only 16 percent of U.S. adults say they use the site, though half of them use it for news.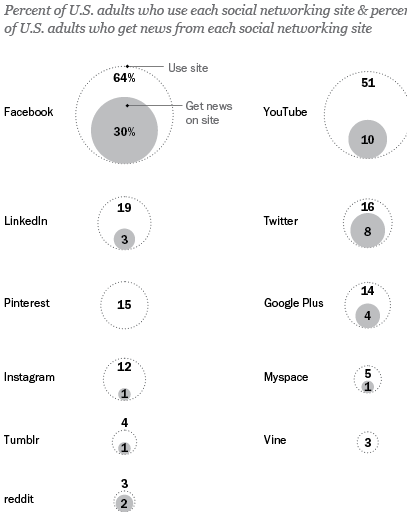 Pew also analyzed the audience overlap on these social media sites and whether users collect their news from just one platform or from many. The researchers found that 65 percent of users get their news from just one portal, and for 85 percent of that figure, it is Facebook. About a quarter, or 26 percent of users, get news on two of those sites, while 9 percent get news on at least three.
If users are going to double up, it is usually via Facebook and Twitter, Facebook and Google Plus, Facebook and LinkedIn (NYSE:LNKD), or Facebook and YouTube.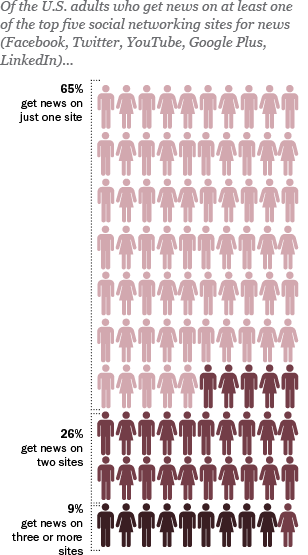 It may then seem like a daunting task for new or developing social media sites to combat the likes of giants like Facebook, considering it basically runs the social news-sharing world. However, many sites, like LinkedIn, have proven their ability to do so, and that's because different networking sites target different groups of news consumers.
The Pew Research Center found that five social networking sites — Facebook, YouTube, Twitter, Google Plus, and LinkedIn — all cater to a somewhat different audience, and that is how they sustain their loyal followings. So although a large majority of users are on Mark Zuckerberg's social network, LinkedIn has managed to win over a number of high earners and those who are college educated, and Twitter has sustained itself thanks to younger consumers who have yet to frequent Google Plus, LinkedIn, or even Facebook.
So while many U.S. users are still relying on their News Feeds and Facebook friends' gossip to obtain a lot of their news, they are also are combining that information with what they read on other social networking sites, too, along with other news platforms in general. Twenty-one percent of Facebook users also read print newspapers for the latest reports, and 42 percent of them rely on local TV in conjunction with their favorite social network.
Don't Miss: Google: Government User Info Requests Have Doubled Since 2009.