Can Ad-Free Social Network Ello Really Take On Facebook?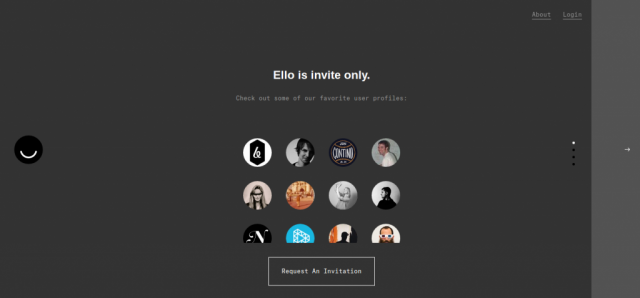 You've probably heard people talking about Ello, a new social network that's made headlines for its stance against social advertising and against Facebook. While taking on giant social networks like Facebook and Twitter is largely a losing game, Ello is taking off. The popularity of the invite-only and ad-free social network is largely timed to Facebook's renewed enforcement of a problematic "real name policy," but a migration of Facebook users to Ello — small on Facebook's scale, huge on Ello's — demonstrates that people might be ready for something new in a social network.
What is it?
According to its website, Ello is "a simple, beautiful, and ad-free social network created by a small group of artists and designers." Created by Paul Budnitz, Todd Berger, Lucian Föhr, Gabe Varela, Matthew Kitt, Jay Zeschin, and Justin Gitlin, Ello is free to use but doesn't sell ads, and also says that it doesn't sell information about its users to third parties. The site notes:
"Virtually every other social network is run by advertisers. Behind the scenes they employ armies of ad salesmen and data miners to record every move you make. Data about you is then auctioned off to advertisers and data brokers. You're the product that's being bought and sold. Collecting and selling your personal data, reading your posts to your friends, and mapping your social connections for profit is both creepy and unethical. Under the guise of offering a 'free' service, users pay a high price in intrusive advertising and lack of privacy. We also think ads are tacky, that they insult our intelligence and that we're better without them."
Ello says that it will occasionally offer "special features," which users can choose to pay "a very small amount of money" to add to their accounts. The site also says that Ello collects some information related to users' visits to the social network, including their location, language, referring website, and time spent visiting Ello, collected by Google Analytics:
"After a great deal of research and internal debate, we decided to use a special anonymized version of Google Analytics to collect visitor data. If that is something you are uncomfortable with, we also offer the option to opt-out. This solution offers an acceptable level of anonymity and privacy, while providing us with the information we need to make Ello great."
User information is anonymous and aggregated, with the IP address stripped and anonymized before storing on Google's servers. Users can turn Google Analytics off, and Ello also respects browsers' Do Not Track settings. Though the social network has existed since more than a year, it skyrocketed to popularity this week, with Budnitz telling Fast Company that the site was receiving between 3,000 and 4,000 invite requests per hour — though the network had only 90 members when the beta was released six weeks ago.
What does it do?
Budnitz describes Ello as "simple and reductive," as exemplified by its name. The site is minimalist in its layout and looks more like Twitter than Facebook, with text, GIF, and image posts surrounded by white space (the platform doesn't yet let users embed videos). Budnitz told Fast Company: "On Ello, your feed is sacred, it's yours. It allows everyone to have personal responsibility," and that reliance on personal responsibility has made Ello a haven for those who have been censored, for aesthetic or political reasons, on the world's biggest social network, Facebook.
Ello's surge in popularity is attributed in part to an exodus caused by Facebook's recent enforcement of its controversial "real name policy," which has seen the social network demand that users it suspects aren't using their legal names either change their name on Facebook or have their accounts suspended. The crackdown has affected many members of the LGBTQ community, and Ello has seen an influx of Facebook users attracted to Ello by the fact that you don't have to use your "real" name on your Ello profile. Budnitz explained the policy to the Daily Dot:
"You don't have to use your 'real name' to be on Ello. We encourage people to be whoever they want to be. All we ask is that everyone abide by our rules (which are posted on the site) that include standards of behavior that apply to everyone. We have a zero tolerance policy for hate, stalking, trolls, and other negative behavior and we'll permanently ban and nuke accounts of anyone who does any of this, ever."
However, Fast Company notes that Ello's provisions for anonymity could leave users vulnerable to harassment, a problem that the network doesn't yet have a solid approach to counteract. Ello members can't block specific users from viewing their content and don't have the power to consent to the comments that others make on their posts. The site has provided an email address where users can report harassment or other unwanted content, but how reports will be addressed is so far unclear.
Ello also has yet to implement a system to determine what content is appropriate and what is not, and while it's promised its users privacy features, the site's current lack of control over privacy is a safety concern for those who have been harassed on Facebook and have used the site's options to filter content and block other users.
The team is working on adding support for posts from YouTube, Vimeo, Vine, Instagram, and Soundcloud. The Next Web reports that Ello is also working on user blocking and adding the capability to flag content, create a private account, repost content, receive notifications, and engage in private messaging, as well as become available on iOS and Android apps.
Will it last?
With Ello's manifesto in wide circulation, its criticisms of social networks funded by advertisements and data mining are pointed squarely at Facebook, a social media company that balances the needs of its more than 1 billion users with the needs of the advertisers that make running the site possible. While Ello refuses to sell advertising or collect users' data, its founders will still need to find a way to support it, especially if users continue to migrate to it.
Wired notes that in addition to selling features to users who want to personalize their profiles, Ello could charge membership fees or collect donations, but neither of those options is a particularly successful model for the alternative and ad-free social networks that have come before it, including App Dot Net and Diaspora, an open-source social network built by a group of New York University students in 2010. Both projects are largely defunct, and the failure of a variety of startup social networks begs the question of how new ideas in social networking can take on Facebook and Twitter without becoming obsolete once their moment in the spotlight is over.
As it's grown to ubiquity, Facebook has come a long way from its original form, implementing News Feed algorithms and personally targeted advertising. As the small-scale migration to Ello shows, many people are ready to move on from Facebook, and that everything — even a dominant social network — has a finite life cycle. It seems unlikely that Ello will be the social network to replace Facebook, but it's clear that many members of existing social networks are ready to try something different. However, Zuckerberg won't have to worry until a social network comes along that people don't discuss on Facebook — where many users turned to discuss Ello and ask for an invitation.
More from Tech Cheat Sheet:
Want more great content like this? Sign up here to receive the best of Cheat Sheet delivered daily. No spam; just tailored content straight to your inbox.