Can 'Advanced Warfare' Reverse 'Call of Duty' Sales Slump?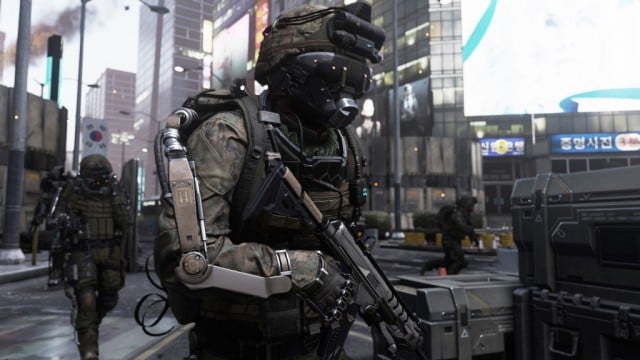 It's standard practice for video game publishers to release a new trailer when the game is released. It's called a "launch trailer," and just about every company does it. Activision has jumped the gun, so to speak, and fired off the launch trailer for Call of Duty: Advanced Warfare two full weeks before its November 4 release. You can watch it right here. From the looks of it, however, this is going to be the most ambitious Call of Duty game in a long time.
The trailer gives you a taste of everything in the game, including the Kevin Spacey-driven story, the action set pieces of the single-player campaign, and the high-powered matchups in the multiplayer mode. It's edited together beautifully and set to the rhythmic, catchy beat of The Raconteurs' "Salute Your Solution." The trailer is only about a minute long, but it does a great job of making me want to hop back in to see what's new in the franchise. This is a series of games, by the way, that many former die-hard fans haven't really cared about in years.
A glance at the games' sales tells the story. According to VGChartz, in 2011 Modern Warfare 3 sold around 30 million units. Its sequel, Black Ops II, sold 27 million. Last year's Call of Duty: Ghosts sold only 24 million. Most game companies would kill for sales like that, but publisher Activision can see that the trajectory is going the wrong way.
The decline in sales could be turned around if Advanced Warfare convinces enough people to give the series another shot. Judging by the terrific trailer — and coupled with the fact that this game was made primarily with the PlayStation 4 and Xbox One in mind — Advanced Warfare has a good shot at reigniting the interest of gamers.
If you haven't been following along with the buzz, Advanced Warfare is the latest annual installment of the Call of Duty franchise. It was developed by Sledgehammer Games, a company that got its start helping Infinity Ward with Call of Duty: Modern Warfare 3. It's the first game in the series to be set in the far future (2054, to be exact), so you'll be able to use sci-fi gear like exoskeleton suits, hover bikes, cloaking devices, and futuristic helicopters. These items will have a direct impact on gameplay, letting you do things like turn invisible and jump high into the air.
The story tells of the aftermath of a global terrorist attack that has destroyed nuclear reactors in numerous countries around the world. A massive private military company, led by Kevin Spacey's character, is sent out on missions to handle the threat. You play as one of the soldiers, doing usual Call of Duty things, like killing lots of enemies. Since Spacey's company, the Atlas Corporation, works for the highest bidder, I wouldn't be surprised if a plot twist makes him turn the tables to become the chief antagonist. But that's just speculation.
If all goes well, Advanced Warfare will help lay the foundation for future Call of Duty games on the new consoles. One thing is for sure, though: The game will have plenty of competition this holiday season, thanks to games like Destiny, Borderlands: The Pre-Sequel, Sunset Overdrive, Far Cry 4, and Halo: The Master Chief Collection — and those are just the shooters.
Other big-name games that may end up swallowing your free time include Middle-earth: Shadow of Mordor, Grand Theft Auto V, Assassin's Creed Unity, Dragon Age: Inquisition, and Super Smash Bros. for Wii U. In short, the next few months will bring an embarrassing number of riches for gamers. Start planning how you want to spend your time and money now.
Call of Duty: Advanced Warfare will launch November 4 for PlayStation 4, PlayStation 3, Xbox One, Xbox 360, and Windows. If you splurge on the "Day Zero Edition," however, you'll get it a day early, on November 3.
Follow Chris on Twitter @_chrislreed
More from Tech Cheat Sheet:
Want more great content like this? Sign up here to receive the best of Cheat Sheet delivered daily. No spam; just tailored content straight to your inbox.