Can Apple Come Raging Back?
Hedge fund manager Philippe Laffont has said he continues to be bullish on Apple (NASDAQ:AAPL) despite the iPhone maker's recent stock lows and investor woes. Laffont said on Bloomberg Television on Monday that Apple's shares continued to be incredibly cheap and the company was sure to take back the offense in the smartphone market very soon.
Is Apple now a once-in-a-decade buying opportunity? Click here to get your 24-page Ultimate Cheat Sheet to Apple's Stock now!
"It's cheap by any measure," Laffont, who runs the Coatue fund, said about Apple. "The key is not to think about whether stock will go up $50 in the next few months. The key is what would it take to get to $800. It would be a great return if just from today went back to $600."
Addressing specific worries about the company's dropping market share in its key market areas, Laffont said Apple was certain to "take back the offense" from its growing set of rivals. "[Apple] has been put on the defense," he said. "Samsung (SSNFL.PK) and Google (NASDAQ:GOOG) have been very strong competitors. Everyone is talking about Android. I'm not sure what it will be, but at some point Apple is going to take back the offense."
Laffont explained that taking back the offense may mean both a strategic product move and an announcement of returning more cash to shareholders…
"The company is so big that how they use the cash is going to determine [stock] value, there's no way about it," he said, according to Barron's. "But there are going to be some new products coming in. I think they have some things up their sleeve."
The money manager, who is said to hold $7 billion in assets, said he was in constant communication with Apple's management and was confident in his backing of the company. "We speak with Apple all the time, we have a great relationship with them," he said. "Apple is very open, very interested in what shareholders have to say. I think they have a lot of ideas of their own, and I think they will be much better off listening to their ideas than to mine."
The stock market is roaring back in 2013. Click here now to discover winning stocks!
Laffont added that he also continued to be bullish on Google, which could be trading for five times earnings in a few years from now.
Here's how Apple (NASDAQ:AAPL) traded on Monday: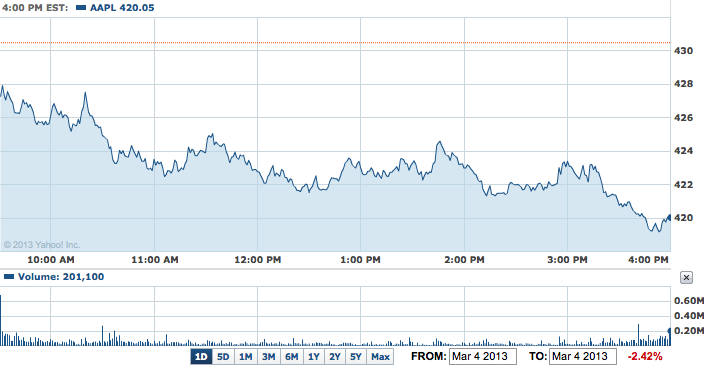 Don't Miss: Is Apple's Safari Browser Losing the Mobile Market?