Can Apple Compete With Cheaper Tablets in China?
It seems that in many regards, China follows a mantra of "anything you can do, we can do cheaper," and the country likes to apply this rule to numerous facets of industry and innovation. Chinese brand cars are often engineered to look nearly identical to the real thing, though they cost a fraction of the price of the vehicle that inspired them. It now seems that Apple's (NASDAQ:AAPL) iPad has a new competitor in China, and true to the phrase, it costs the user as little as $65.
The iPad and its family make up about 80 percent of the tablet market in China, a firm grasp to be sure. However, white-box products — gadgets and goods that are made by one company, but can be re-branded as another — could pose a threat to Apple's dominance in its fastest growing market. During the first quarter, the company recorded 67 percent growth on the year, its best growth statistic globally.
"We found many iPad-like white-box tablets in Hua Qiang Bei, Shenzhen's largest consumer electronics mall. These products are sold at retail prices ranging between CNY400-1200 ($65 – $195)," Nomura researchers Leping Huang and David Hao said in a note. While the lowest-end tablet is likely not a comparable alternative to the iPad in terms of features, the products in the $120-$195 range were coming close. The Ramos X10 table, which retails for about $145, features up to date quad-core processors, and is still less than half the price of the iPad Mini, Apple's cheapest tablet offering. Nomura noted that screen quality and technology were also on par with high-end tablets, making it tough to discern one from another.
However, one conspicuous question remains: the iPads are, for all intents and purposes, luxury goods. The line holds the standards for build quality and tech in the U.S. and the western world, let alone China. So wouldn't comparing these two tablets be on par with apples to oranges?
Well, yes and no. As Gartner research says, the Chinese market is very polarized — "The high end wants iPad and [it's] the low end that turns to white-box. Nothing in between is really picking up in China," said Caroline Milanesi, an analyst with the firm. This means the wave of high-tech and low-cost tablets which present a new option for Chinese consumers will likely divide the market into camps, and speculatively, that split won't fall in favor of the 80/20 share that Apple enjoyed in the first quarter.
"Users look at tablets as a cheaper computing device rather than a status device for the time being," Milanesi continued. "Quality has improved dramatically over the past year. We also need to remember that hardware is the most important part over ecosystem."
Regardless of how low China can drop the price of the tablet, though, its unlikely that Apple will feel any detrimental losses in the region. The market is so vast, and Apple products are in demand enough that the company will likely feel positive growth from the market for some time.
Here's how Apple finished trading Wednesday: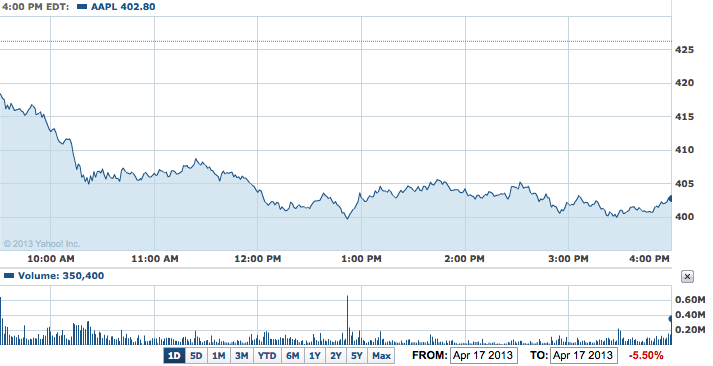 Don't Miss: Can Apple Size Up in China?