Can Apple Get Away With Dropping Google for Yahoo?
Analyst Shaw Wu of Sterne Agee thinks that the benefits of a closer partnership between Yahoo! (NASDAQ:YHOO) and Apple (NASDAQ:AAPL) are great, and a shift could hurt Google (NASDAQ:GOOG).
Apple and Google have been linked for some time now, as Google has powered a number of default built-in apps on iOS devices, including Google Maps and YouTube. But, since Google started competing more directly with Apple — its Android OS has quickly swept the globe to become the number one smartphone operating system worldwide — Apple has shown more interest in distancing itself from Google.
Recently, the iPhone maker took steps to cut some of its reliance on Google. With the launch of iOS 6, Google Maps was no longer a default mapping application on Apple devices, and Siri's search results were less dependent on Google. Since then, YouTube's status as a default video player has also been stripped.
However, there is some trouble in stepping away from Google, as many Apple users don't have the same animosity toward the search giant that Apple does. YouTube and Google Maps are widely popular, and it would take a lot of work for Apple to successfully replace them on its devices. Even some of Apple's top brass will argue that Google is the best when it comes to search result quality, and they won't sacrifice that quality just to get away from Google…
The situation puts both Apple and Google in a difficult position, while Yahoo is sort of in the middle just seeing how it will play in. If Apple cuts out too much of Google's services, users may be repelled. For Google, such cuts could reduce could hurt its revenue, as Apple's iOS still accounts for more web traffic and mobile revenue than Android, despite having a smaller market share. Yahoo mostly stands to benefit, as it's most likely that Apple's incorporation of Yahoo services will only increase.
The next Apple iPhone or next iOS update could be the turning point in the relationships between the three companies, as it could be a point for Apple to show another next big step away from Google.
Here's how Apple (NASDAQ:AAPL) traded on Thursday: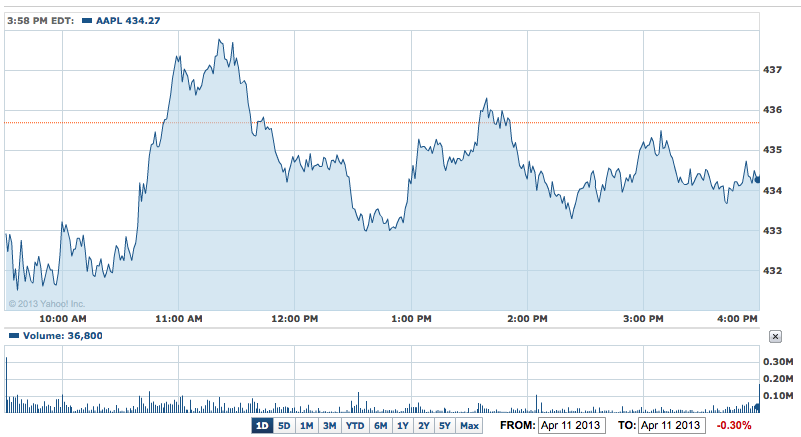 Don't Miss: Here's Why Apple Pulled This Discovery Service From The App Store.