Can Apple Grab Another Slice of the Smartphone Market?
Is Apple (NASDAQ:AAPL) missing out on an important slice of the smartphone market by neglecting to produce a low-cost alternative to its premium iPhone product? Five analysts from JPMorgan (NYSE:JPM) believe Apple is at a crossroads for a potential smartphone market expansion. This collaborative analysis was done by JPMorgan hardware analyst Mark Moskowitz, Gokul Hariharan of the firm's Asia-Pacific research unit, semiconductor market specialist Harlan Sur, LG Display and Samsung (SSNLF.PK) analyst J.J. Park, and European tech companies analyst Sandeep Deshpande.
Moskowitz notes that the greatest number of smartphone shipments is in the $575 to $700 range and the $75 to $200 range. However, these analysts believe that Apple could potentially dominate the mid-range $350 to $400 price range smartphone market if they were to produce a device in that range, while "keeping its design aesthetics unchanged."
How do you make a low-cost iPhone without sacrificing design aesthetics or quality? Quite simply, Apple will have to be willing to take a hit, albeit a temporary one, in its profit margin. Moskowitz points out that Apple has a history of creating demand when it debuts a product in a previously untapped price range market. Until Apple launched the iPad mini, there was little demand for tablets in the $300 to $400 range. Today this is one of the largest segments of the tablet market.
Moskowitz believes there is plenty of room for growth in the $200 to $500 price range smartphone market. According to IDC statistics, this segment accounts for 35 percent of the total number of smartphones shipped every year, or approximately 200 million units. Samsung currently leads in smartphone shipments in this price range, with 35 percent of the market.
If Apple were to enter the mid-range price smartphone market soon, it could maintain the duopoly it currently shares with its South Korea-based rival, Samsung. Moskowitz believes that this move would especially help Apple grow its footprint in certain overseas markets where it has less market revenue dominance.
Although Apple had 47 percent of the smartphone sales revenue in North America last year, it only had 22 percent in Asia-Pacific, and 9 percent in Latin America. Moskowitz thinks that a mid-range Apple iPhone in these markets could stave off future market erosion from mobile competitors that use Google's (NASDAQ:GOOG) Android-based platform.
Here's how Apple has traded so far throughout this week.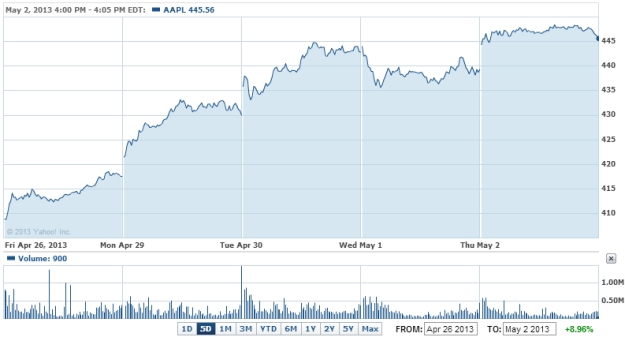 Don't Miss: Will Apple and Samsung Get Pentagon Clearance?