Can Apple Halt the iPhone's Collapsing Market Share?
Besides reiterating his Outperform rating on shares of Apple (NASDAQ:AAPL) and a $600 price target, Bernstein Research analyst Toni Sacconaghi wrote in a research note on Monday that the iPhone's share of the smartphone market will likely decline to 12 percent this quarter, which will be company's lowest portion since the first quarter of 2009.
In the note, seen by Barron's, Sacconaghi referenced first-quarter smartphone shipment figures released Thursday by research firm Strategy Analytics — which showed that Apple's global market share fell from 22.8 percent in the year-ago quarter to 17.9 percent. Even more concerning, the smartphone market grew 36 percent, more than five times Apple's reported 7 percent year-over-year iPhone sales growth based on the company's first quarter earnings statement.
Based on Apple's forecast for third-quarter sales to be flat year-over-year, between $33.5 billion and $35.5 billion — a range below analysts' expectations — Sacconaghi wrote that the company's estimate implies that it will sell about 25 million iPhones during the current quarter. This represents a 4 percent year-over-year decline for the flagship device. If the smartphone market expands a further 30 percent this quarter, Apple's share would drop 400 basis points to 12.3 percent, he said.
"Perhaps most startlingly, if Apple does not introduce a new iPhone or lower-priced phone in CQ3, it is quite possible that iPhone's smartphone market share could drop into the single digits," Sacconaghi added. But the analyst does believe there will be a new generation iPhone released at the beginning of September.
Despite current signs indicating that Apple's market share will grow more slowly than the market, Sacconaghi wrote the implied growth of 15 percent this year and 10 percent in fiscal 2014 is still "healthy," even without the inclusion of any units for a lower-priced phone.
Sacconaghi said he thinks a low-cost iPhone could life market share, writing that "a successful low priced offering could boost Apple's overall share by 500 bps or more." He added that "Apple's share could increase dramatically with the introduction of a lower priced device, and meaningfully with the addition of new carriers."
However, whatever problems Apple is facing in the smartphone market, "iOS is in no risk of going away" because the size of that "ecosystem" is "staggering both on an absolute and a relative basis." Still, Sacconaghi does not see the iPhone making much of a comeback. "Currently, Apple's iPhone positioning is increasingly mirroring the Mac, which commands just 5% PC market share, but is highly profitable, accounting for an estimated 40 percent of total PC industry profit."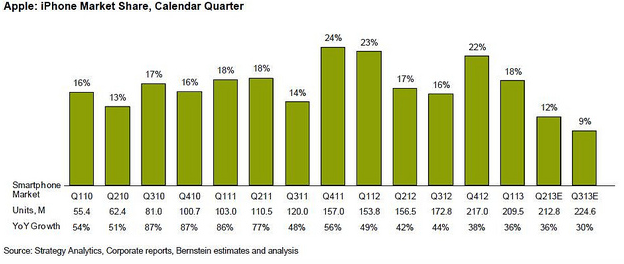 Don't Miss: Will the iPhone 5S Be Here Sooner Than Expected?