Can Dell Really Be More Than a Hardware Vendor?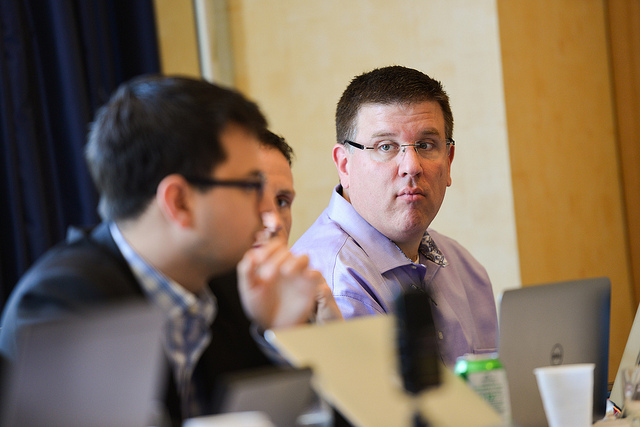 Now that Dell (NASDAQ:DELL) founder and Chief Executive Michael Dell has finally convinced shareholders that his $24.9-billion privatization plan was the best option for the struggling personal computer manufacturer, he must begin to transform Dell from a personal computer manufacturer into a company that acts as one-stop shop for business computing software, services, and equipment.
It is not expected to be an easy task. Of course, leaving behind the collapsing personal computer market, where the company still generates 70 percent of its revenue, is the most obvious challenge. But acquiring market share in services, storage, and corporate IT is perhaps a more concerning problem. Many chief information officers do not view Dell as a major enterprise vendor.
Even though PC sales still make up such an important part of the company's business, Paul-Henri Ferrand, Dell's general manager of North American commercial business, said that the company has already transformed into a software and services company. It is in cloud storage that company must reinvent itself, he added.
By training its technical staff to sell servers and hiring consultants to help consumers implement and manage the system, the company has begun to change, and there is evidence of that progress in its recent financial results. Dell's enterprise business grew 8 percent last quarter thanks to strong server and network sales. Still, profits fell more than 72 percent, showing the company's continuing dependence on PC sales.
CIOs do not agree that Dell is more than just a PC maker. According to Gartner analyst Adrian O'Connell, that means the company's first priority must be to change the perception that it is just another hardware company.
For example, Gerry McCartney, the CIO of Purdue University, said he doesn't see Dell as anything but a hardware company, and that opinion is not likely to change soon. 'That's what they do for a living and that's where they've been successful," he told the Wall Street Journal. He said Dell should instead concentrate on building hardware that supports the "Internet of things," meaning machines that range from computers to household devices, have IP addresses, and communicate with each other to complete various tasks.
Then there is the problem that both the server and the cloud storage markets are already well stocked with vendors. Amazon (NASDAQ:AMZN), International Business Machines (NYSE:IBM), Hewlett-Packard (NYSE:HPQ), and Cisco (NASDAQ:CSCO) are well-established. Even worse is the fact that those markets are consolidating.
But Dell believes it is "doing exactly what customers want us to do," as Ferrand told the Journal, especially in terms of cloud storage. It may be surprising that a company of Dell's size does not use a branded public clouds like HP and IBM. Instead, the company offers three types of public cloud via several partners: Joyent, a proprietary cloud used by large telecommunications companies; Zerolag, a VMware-based cloud; and Scalematrix.
It also operates its own OpenStack-based cloud technology. The reason Dell chose to use partners is so business can have choice, Nnamdi Orakwue, vice president of Dell's Software Group, told Gigamon. "Customers are afraid of lock-in — they've had that experience. I won't name any names but there are cloud or virtualization platforms that lock them in and have tricky pricing [that makes it] hard to leave," he said.
In his interview with CNBC last week, Mr. Dell said the company was focused on "powering those clouds that are being fueled by this enormous explosion of mobile devices."
However, despite his commitment to building Dell into an industry leading provider of enterprise services, end-user computing — which includes devices like PCs and tablets — will remain an important focus for the company, Mr. Dell told reporters on a conference call held after shareholders approved his leveraged buyout proposal last week. He did not elaborate on the subject or take further questions.
In lieu of an interview, which was canceled due to a scheduling conflict, Mr. Dell sent Fortune magazine's Dan Primack a series of tweets to "hopefully" answer the reporter's "main questions." On the next page, take a look at what the CEO tweeted.
"Will continue to make acquisitions both of entire companies and seed investments in promising startups in our ecosystem."

"Will be more aggressive once the transaction closes bringing great value to customers."

"Compare Dell enterprise servers, services, software up 9 percent last quarter to [Hewlett-Packard] down -9 percent last quarter. We're gaining share, not distracted."

"Our team inside the company was awesome. They kept focused on customers. I'm very proud of them!"

"Customers don't like uncertainty, no one does. There was some distraction but our team managed it very well. That is behind us now." The distraction to which he referred was the rival proposal made by Carl Icahn that complicated the privatization process.

Dell has a strong balance sheet and solid cash flow, having generated over $22B in cumulative [free cash flow] over the last five years. Over $4B [over the last twelve months]." That free cash will be an important asset as Dell continues to invest in the company's new direction.

"We expect that cash for interest expenses and amortization will use less cash than historical share repurchase, interest and dividends."

"We believe that our new capital structure will be an advantage for the company."

"Carl [Icahn] did call me a few days before the vote to congratulate me. He was very gracious and genuine."
Follow Meghan on Twitter @MFoley_WSCS
Don't Miss: Does Apple's iPhone 5S Hold iWatch Clues?