Can Facebook Ever Please Analysts?
Investors and analysts are worried that Facebook's (NASDAQ:FB) increasing costs — such as its newly launched retail gift card initiative — will hamper its efforts to adjust its business as users flock from desktops and laptops to the social network's mobile application.
While increasing spending to improve users' mobile experience is not "inherently bad," as Forbes said, it may narrow profit margins. Facebook has already had problems in this area.
The social network's shares may have gained 50 percent since November, but the company's fourth-quarter results appear to be a sign to take profits and get out. Analysts at BMO, Citigroup, and Sifel Nicolaus all hit unfriend on Thursday morning, downgrading the company's shares after its mobile advertising revenue growth failed to meet expectations. Analysts are also concerned about Facebook's spending in the upcoming year.
"While we are broadly supportive of Facebook's longer-term strategy, the material increase in 2013 spending pressures valuation, making the stock less attractive to own on a near-term basis, in our opinion," wrote Jefferies analysts Britz Pitz and Brian Fitzgerald in a note seen by Forbes. They also cut their target price for the stock to $30 from $32.
Facebook's efforts to launch new advertising services – including those aimed at mobile – have already proven costly. As a far distant second in mobile advertising, the social network has struggled to beat its investors' expectations and the competition. But its increased focus on advertising contributed to a 79 percent fall last quarter in net income, which shrank to $64 million as operating expenses jumped 82 percent.
Some of the additional expenses came from investments in new products that will keep users on the site longer, which can potentially make them see more ads. Facebook indicated on Wednesday's earnings call that it will continue this trend in the next several quarters. The company also announced on Thursday that it would be partnering with Target (NYSE:TGT), LVMH Moet Hennessy Louis Vuitton (LVMUY.PK), Jamba's (NASDAQ:JMBA) smoothie locations, and Darden Restaurants' (NYSE:DRI) Olive Garden. This type of product is aimed not only at boosting mobile revenue by convincing users to spend more time on the site, but at making retail a separate source of revenue.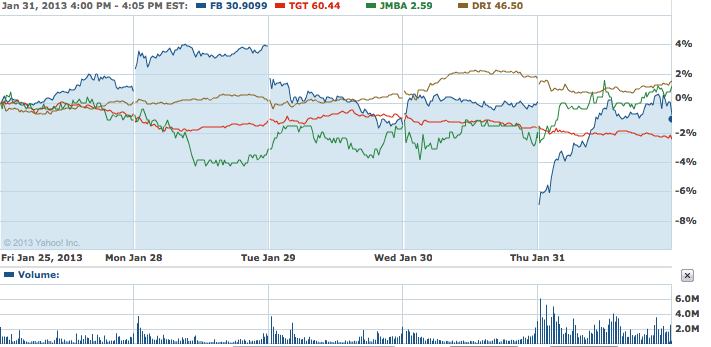 Don't Miss: Facebook: Still Expanding its Message Around the World.