Can Google's New 'Inbox' Fix Email?
The company that introduced Gmail ten years ago is launching a new app that it promises can help us fix email and all of the problems that we have with messy inboxes where our important emails become buried under mountains of other notifications, promotions, documents, messages, and alerts. On its official blog, Google announced Inbox. The post, written by senior vice president of Android, Chrome, & Apps Sundar Pichai, calls Inbox "a completely different type of inbox, designed to focus on what really matters."
As Farhad Manjoo reports for The New York Times, work on Inbox began two years ago, when a team of designers and engineers on Google's Gmail team decided that Gmail, which was first introduced in 2004, just "wasn't cutting it." Manjoo spoke with Alex Gawley, Gmail's product director, who said that, "We decided, 'What if we cleared our minds, started fresh, and built something new to help people get back to what mattered to them?' What if we did more of the work for them?"
The resulting solution is Inbox, which Google has released for Android, iOS, and the web on an invitation-only basis. Google has sent out the first round of invitations to Inbox already, and each user can invite friends. People can request an invitation by emailing inbox@google.com to get an invitation when more become available.
Gmail users will be able to use Inbox with their existing Gmail account, and actions taken in Inbox are reflected in Gmail. Manjoo explains that Inbox isn't an upgrade to Gmail — though one of those is rumored to be in the works, as Android Police reported — but is intended more as a replacement for Gmail for those who choose to use it. Pichai even wrote in the post on Google's blog that, "When you start using Inbox, you'll quickly see that it doesn't feel the same as Gmail — and that's the point. Gmail's still there for you, but Inbox is something new." While Inbox's creators love Gmail and stress that it isn't going anywhere, Manjoo describes Inbox as "your email system for the next decade."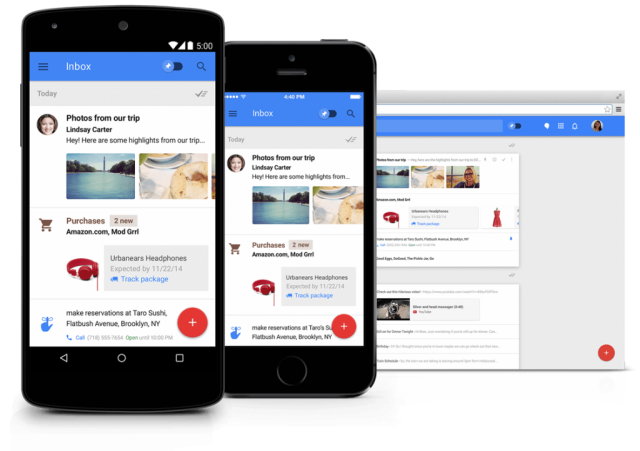 While users will sign in to Inbox with their Gmail account, Google expects most people to use Gmail or Inbox, but not both. As Google's screenshots show and Manjoo reports, Inbox replaces Gmail's familiar, text-heavy list of subject lines and senders with previews of messages, which make it look more like a social network than an email service. An email with photos attached, for example, will show a preview where the user can flip through the photos and then dismiss them, all without actually opening the email.
Inbox also takes advantage of Google's data-mining capabilities to make these previews and highlights into something useful, reminiscent of its Google Now assistant, which aims to give users "the information you want, when you need it." As Pichai's blog post explains, a feature called Bundles builds on the categories that Gmail introduced last year, and makes it easier to deal with multiple messages of a similar type at once (think receipts or bank statements). Messages are automatically grouped — into categories like Promos, Purchases, and Travel — for the user to review and then swipe away, and users can choose what types of emails they'd like Inbox to group together.
Additionally, Inbox highlights "important information" like flight itineraries, event information, photos, and documents, and can also use the web to find and display information that wasn't included in the original message, like the real-time status of a flight or a package delivery. Users can also add Reminders, and Inbox can create Assists, which are "handy pieces of information you may need to get the job done," like the phone number and the hours of the hardware store that you plan to visit.
Assists also work with email, and Inbox can provide a map to accompany a message about a restaurant reservation, as an example. Tasks and Reminders appear in the inbox along with messages. Inbox also enables users to Snooze email and Reminders, and set them to reappear at a specific time or at a specific location, like the user's home or office, using geofencing.
TechCrunch's Darrell Etherington gained access to Inbox's limited release, and noted that the app benefits from Google's new commitment to Material Design principles, with animations, primary colors, icons, and controls that are well-designed and "very clearly indicative" of the functions that they represent. He also explains that Inbox divides emails into three sections: The main Inbox, the Snoozed section, and the Done section, and users can reach each of those via a sidebar menu.
As Manjoo notes, the concept of Inbox isn't entirely novel. It uses gestures to navigate and sort messages, like Mailbox, and automatically categorizes messages, like Gmail or Outlook. But the real question is: Can Inbox actually solve the problems that we have with email? To consider that, we also have to ask: What are the problems that we all have with email?
At the top of almost everyone's list: We just get too many emails. Our inboxes are a mess because our email accounts are a central place for all kinds of messages: personal correspondence, invitations to meetings, documents and photos, alerts from social networks, receipts from stores, information from airlines, promotions from stores, updates from anyone whose service or product or publication you've bought, and copious amounts of spam.
We get lots of messages that we don't care about, and more messages that we do care about that get buried in complex threads or hard to keep track of amid all of the other, less important messages that inundate our inboxes. Additionally, the mobile email clients that most of us rely on to stay on top of our messages while we're away from the computer aren't really mobile friendly. In many cases, they seem like compressed versions of the original desktop version, and the workflow, still based on the desktop version, is clumsy and slow.
But the avalanche of messages and the diversity of the types that they fall into can be pretty well addressed by the categories that Gmail or Outlook can create to organize messages. The problem is that our difficulties with email are bigger than just the sheer number of messages that we send and receive. On a fundamental level, email serves too many purposes. We use it to make plans and share details of our lives with friends and family. We use it to stay on top of communications from social networks and other sites where we're members. We use it to share and store documents. We even use it to create to-do lists, outline our calendars, and plan and centralize the tasks of the day — all of which are functions that email was not designed to complete. As Pichai explains in Google's announcement of Inbox:
"Email started simply as a way to send digital notes around the office. But fast-forward 30 years and with just the phone in your pocket, you can use email to contact virtually anyone in the world … from your best friend to the owner of that bagel shop you discovered last week. With this evolution comes new challenges: We get more email now than ever, important information is buried inside messages, and our most important tasks can slip through the cracks — especially when we're working on our phones. For many of us, dealing with email has become a daily chore that distracts from what we really need to do –rather than helping us get those things done."
While many of the problems that we have with email might be solved with some discipline to establish better organization, become more efficient in our communication, or implement better routines for handling our messages, Inbox aims to automatically make a manageable inbox easier to achieve, without requiring users to dramatically change their behavior or devise and manually set up their own organizational system.
For many people, email is now a task management tool and even an archiving tool. Getting control of their inboxes could help many users become more efficient, more organized — and with Inbox's Google Now-like ability to surface important information related to their messages, more prepared and informed to tackle the events and tasks of the day. With Inbox, Google seems willing to embrace all of the functions that email now attempts to fulfill, but it will take more time and trials to determine whether Inbox is really up to the task.
With Bundles, Inbox isn't that different from Gmail or Outlook. What could really make a difference is Google's integration of smart data mining with Highlights, and its choice to enable Assists for Reminders. Even its bold, mobile-friendly interface and the gestures that it requires could make email faster to deal with and easier to manage. As many weary email users can attest, there's a very real need for a better email app, one that can handle both communication and organization and create a better workflow for mobile users who rely on their email accounts to manage their messages and their agendas. If any app has the potential to become a functional personal assistant for the management of email and all of the tasks and information that go with it, that app is Google's Inbox.
More from Tech Cheat Sheet:
Want more great content like this? Sign up here to receive the best of Cheat Sheet delivered daily. No spam; just tailored content straight to your inbox.