Can IBM Capitalize on a Jeopardy-Winning Computer Named Watson?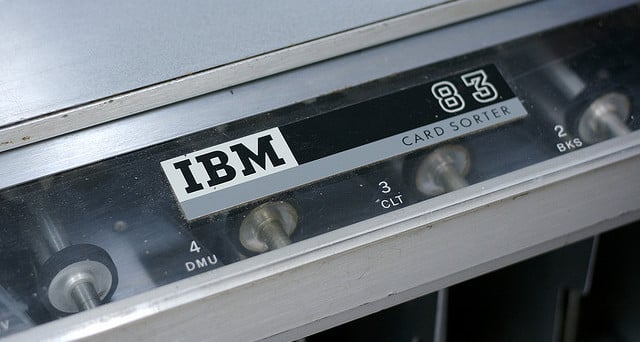 Can Watson, the Jeopardy-winning computer whose software enables it to learn from past experience, become of one of the biggest inventions in International Business Machines' (NYSE:IBM) 103-year history? That is the question IBM executives are asking themselves as they consider whether the artificially intelligent computer system named for company co-founder Thomas J. Watson can ever be big business for the company.
Three years have passed since Watson competed on Jeopardy, and over years IBM has slowly begun to commercialize the software. During the tech company's third-quarter conference call in October, IBM CEO Virginia "Ginni" Rometty said Watson will generate $10 billion in annual revenue within 10 years. If that goal is reached, Watson would be the fastest IBM business to reach that milestone. Yet as of the third quarter, total revenue for the computer system amounts to less than $100 million.
Regardless of the meager revenues Watson has generated thus far, IBM executives believe the AI computer system could stand alongside the mainframe computer and personal computer as great technological achievements. The technology that distinguishes Watson from other analytical software — its ability to learn — took years of research in IBM's labs to develop, and the company thinks that technology has the potential to play an important role in the medical field.
Through a source familiar with IBM's plans, The Wall Street Journal learned the company is planning to make a major announcement on Thursday that could serve as evidence of Watson's significant potential.
"Watson has rapidly moved from an industry-first research initiative to a commercial reality" that can solve business and social problems, an IBM spokesman told the publication. "IBM is making excellent progress with clients and with partners in advancing Watson, and we are excited about Watson's future as a cloud service and as technology that will change lives." Even more importantly for IBM, at least at a day-to-day scale, Watson is a service, meaning an ecosystem will grow to support the computer system, allowing the company to build applications around it and sell customers additional technology.
Of course, value is a key component for IBM, as it is for any company. But for IBM, which is under pressure to modernize its aging technology portfolio, making Watson a successful product capable of creating an entire business around it is essential for the company. During the tenure of Rometty's predecessor, Samuel Palmisano, IBM regularly hit or surpassed Wall Street's expectations.
But since Rometty became CEO in 2012, the company has struggled, especially as new technologies have begun to threaten its most lucrative businesses. With sluggish spending on computer hardware and new competitors who rent computing power and software to clients via the Internet, investors are waiting to see whether the company is can develop new revenue sources. The third quarter was the sixth consecutive drop in quarterly sales for IBM, signaling to investors that the IBM earnings machine is stalling.
While artificial intelligence could be a new frontier for IBM, there are problems for Watson's commercial future. Early tests show the artificially intelligent computer system has found it more difficult solving real-life problems than Jeopardy questions, as the Journal found from reviewing internal IBM documents and interviewing Watson's first customers. Among the earliest to give the software a shot was the University of Texas's M.D. Anderson Cancer Center, where doctors are working with IBM to create a version of Watson able to recommend leukemia treatments by mining medical literature.
Currently, IBM is developing versions of Watson that can recommend investment strategies or organize clinical drug trials. However, the software's ability to make recommendations and conduct analysis depends on software engineers to translate technical knowledge regarding the business in question into usable software. It is only through such a process that Watson can learn and become an effective tool. That process is also incredibly time consuming for IBM engineers, yet it could pay off for the company if Watson can provide valuable analytical tools to important industries like medicine, finance, and engineering.
"They need to have something special and they are hoping [Watson] is it," author Stephen Baker told the Journal. But Baker, whose book "Final Jeopardy" chronicles the development of the AI computer system, also believes Google (NASDAQ:GOOG) could threaten IBM's success by developing a similar product at a much lower cost.
More from Wall St. Cheat Sheet:
 Follow Meghan on Twitter @MFoley_WSCS