Can Intel's MICA Smart Bracelet Make Wearables Cool?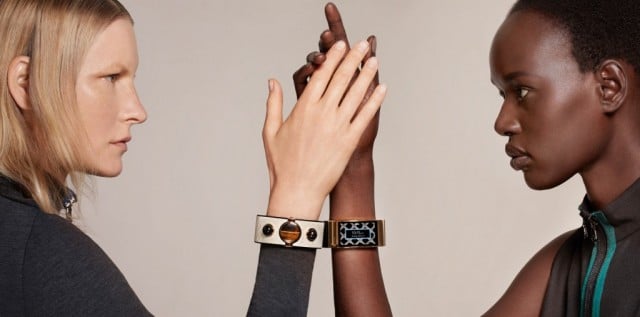 Apple has its Apple Watch, Microsoft has its Microsoft Band, and now Intel has joined the club with MICA, a style-focused smart bracelet especially for women, designed by fashion empire Opening Ceremony and engineered by Intel. According to Intel's website, MICA, short for My Intelligent Communications Accessory and pronounced "meeka," is "meticulously designed for the stylish, connected woman."
The MICA will cost $495 with a two-year contract when it goes on sale at Opening Ceremony and Barney's, reportedly early in December. Intel explains that the bracelet is "crafted from premium finishes," featuring 18-karat gold and a curved sapphire glass touchscreen. The band will enable wearers to view messages, their calendar, and alerts from selected contacts from their wrist, but in an interesting twist for wearables — the band does not pair with the user's smartphone.
Unlike many smart wearable devices, like Apple's Apple Watch, MICA doesn't connect to the user's smartphone or tablet. Because it operates independently of a smartphone, it's equipped with its own cellular radio, and has its own phone number that the user's contacts will need to store. As PCMag points out, that means that someone texting the MICA owner will need to decide whether to send a message to the user's smartphone or to her MICA.
The band is meant to be worn with the touchscreen at the inner side of the wrist. Notifications are vibration-based, and users can respond to texts with pre-written but customizable messages. Users can designate "important contacts" in Gmail to receive notifications from, and see both upcoming Google Calendar and Facebook events and respond to requests.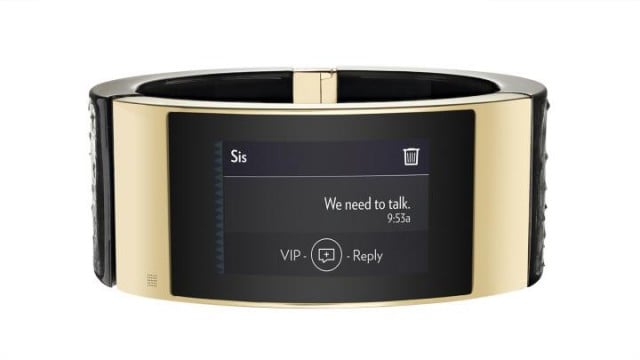 MICA also provides "Time to Go" reminders, powered by TomTom, to let users know when they should leave for their next appointment. They can also access Yelp search and ratings to find restaurants, shopping, and other establishments with the "Near Me" feature. PCMag reports that the user interface is primarily built around swiping up and down — like Android Wear — and gray and black predominate.
MICA is connected to AT&T's mobile broadband network, and two years of service are included in the device's purchase price. The bracelet also features remote access, locking, and a device locator, micro-USB charging, battery life of up to two days, and the capability to "make your own bespoke MICA bracelet" with custom digital wallpaper from Opening Ceremony. One style of the MICA features black water snakeskin, pearls from China, and lapis stones from Madagascar, while the other features white water snakeskin, tiger's eye from South Africa, and obsidian from Russia.
So is a band with limited capabilities and a limited target demographic a good idea for Intel? While the niche market will certainly limit the number of units that Intel could sell, the wearable's limited functionality also raises suspicions that MICA may miss its mark. While the messaging, notifications, and search functions may be helpful, their delivery isn't unique, and very likely won't be as seamless as on wearables that pair with a smartphone. Instead of a high-tech device that everyone will want, Intel and Opening Ceremony have designed MICA as a relatively low-tech device specifically for the high-fashion set.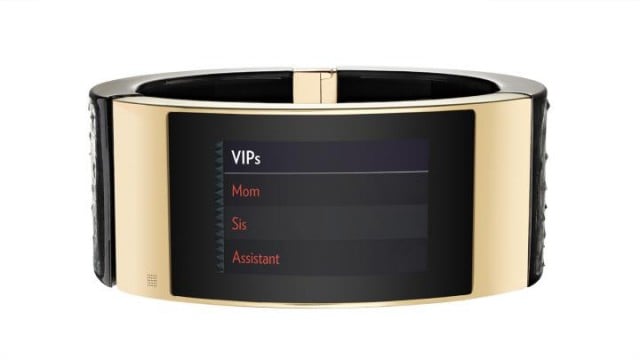 Though the New York Post notes that MICA's $495 purchase price is less than the $1,000 price tag some expected in September, when Intel and Opening Ceremony first shared photos of the wearable, Apple's smartwatch will start at just $349. Because young and style-conscious consumers — who seem to be the target demographic, given Opening Ceremony's involvement — tend to own and like Apple devices, they seem more likely to consider Apple's much-anticipated wearable for function, if not form, in that it won't require them to use a separate phone number to send and receive messages on their wrist. MICA bears more resemblance to fashion-focused accessories, like the smart ring Ringly and a bracelet designed by Rebecca Minkoff, than to other wearables competitive in the smartwatch space.
New York Magazine notes that while Opening Ceremony is synonymous with "cool" for the fashion set, wearable tech is still distinctly uncool — just think Google Glass or FitBit or any number of other clunky smartwatches and bands. Though Intel Vice President Ayse Ildeniz told New York Magazine, "we're so focused on function and what it does, and we almost never worry about how it looks," Opening Ceremony co-founders Carol Lim and Humberto Leon wanted a thin, curved, feminine-looking device.
In unveiling MICA, Opening Ceremony and Intel reportedly emphasized the stereotypically feminine use cases for the device. It's targeted to women who want to stay in touch with their girlfriends, get messages from the nanny, or stay close to family members, and The Verge reports that the two companies believe that the device can solve problems they discovered women had with current technology, like fumbling for a phone during meetings, or needing extra space to store a smartphone during a night out.
While Opening Ceremony's Lim told New York Magazine that they chose to design a smart bracelet because such a wearable could become part of a woman's outfit everyday, Leon noted that the device isn't intended to replace the omnipresent smartphone. "We immediately recognized that women will have their phone, they'll have their other devices. They'll have their Fuelband, these others — we're fans of wearables, we're not trying to say that this is the one and only wearable that will meet a woman's needs on a daily [basis]."
It remains to be seen if Intel and Opening Ceremony can make wearable tech cool for the fashion set, or convince young, style-conscious women that they need a snakeskin smart bracelet. But if the women who MICA are targeting are like any other demographic of tech consumer, it seems that the MICA will need to make a compelling case for its utility as a smartwatch, not as a fashion accessory, to add to the rotation of devices that they use every day.
While the wearable and the design partnership that went into making it signifies a welcome acknowledgment that not everyone who loves technology is male, MICA doesn't seem to make a compelling case for a limited feature set. In technology as in fashion, what's in vogue today will quickly be outdated by the continual forward march of innovation, but sacrificing function for aesthetics is only likely to make MICA's 15 minutes of fame pass even faster.
More From Tech Cheat Sheet:
Want more great content like this? Sign up here to receive the best of Cheat Sheet delivered daily. No spam; just tailored content straight to your inbox.