Can Katie Couric Help Yahoo Take on YouTube?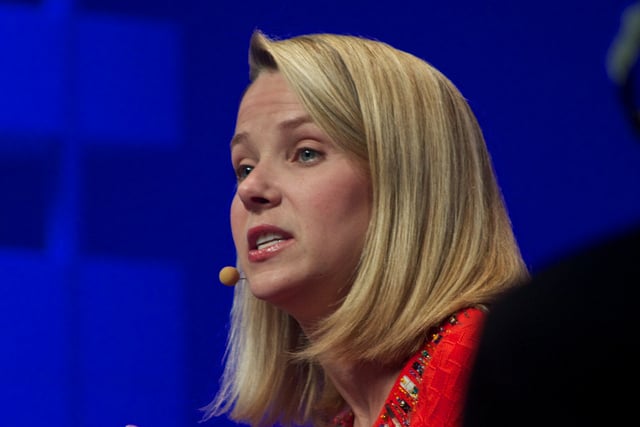 Marissa Mayer's efforts to ramp up Yahoo's (NASDAQ:YHOO) mobile properties through a string of acquisitions has been heavily reported on during her time as CEO, but now Mayer seems to be turning her focus to the company's media offerings, as well. According to a report from AllThingsD, Mayer is cooking up a deal with celebrity reporter Katie Couric for an original Web interview show that will be prominently featured on the Yahoo homepage.
Couric currently has a daytime talk show called Katie on Walt Disney Co.'s (NYSE:DIS) ABC Network, which already has a close partnership with Yahoo. AllThingsD also reports that Mayer has been in talks with Conde Nast's Vogue for the fashion magazine to produce some sort of digital content for the site. AllThingsD pointed out that, coincidentally, Vogue's 900-plus page September issue included a spread on Mayer.
Couric has done some small appearances for Yahoo and has a video series called Katie's Take, which is basically a shortened version of the talk show, already on Yahoo. But the new deal would be much more substantial and heavily overseen by Mayer herself. Sources who spoke with AllThingsD said the video series would contain exclusive celebrity interviews done specifically for the Web.
Mayer has been looking to create a competitor to Google's (NASDAQ:GOOG) YouTube, and the Vogue and Couric series ideas would be a step towards accomplishing that goal. Mayer even presented Yahoo's second quarter earnings in a video presentation shot like a news broadcast, saying she wants to make video a "primary area of investment over the next year."
Mayer is also looking to hire a television executive to replace Yahoo media chief Mickie Rosen in order to follow through on Yahoo's commitment to video, sources told AllThingsD. The Vogue and Couric offerings look as if they'll be original content for Yahoo, and the company could use the advertising boost video ads would provide.
Unsurprisingly, Mayer is trying to make more media acquisitions after failing to buy French video sharing website Dailymotion. Some have criticized Mayer's strategy of buying startups for their engineering talent in mobile, but the move seems to have been successful thus far, considering Yahoo has designed several native apps for Apple's (NASDAQ:AAPL) iPhone that have won iOS design awards.
Mayer's background may be focused in tech, but she is certainly a media-savvy CEO. If she can get her hands on the right talent and content, Yahoo could possibly create a video site capable of competing with heavyweights like YouTube.
Follow Jacqueline on Twitter @Jacqui_WSCS
Don't Miss: Yahoo Beats Google to Come in Number One in Web Traffic.