Can LG Bend the Market to Its Will?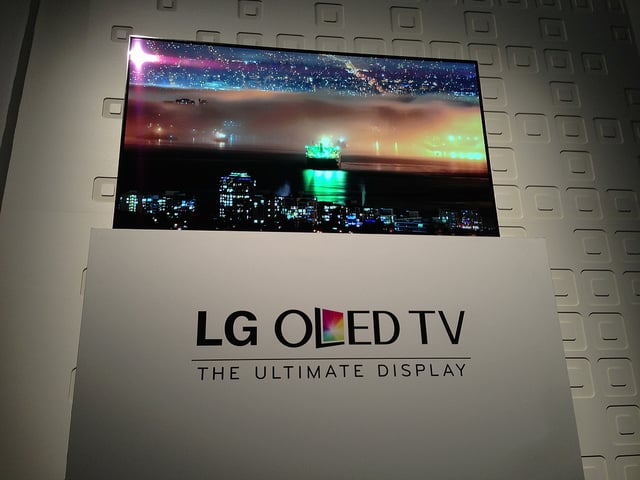 The days keep rolling forward, and as the second half of the year is breached, some advancements in technology should be showing their faces. LG Electronics and LG Display (NYSE:LPL) together look to be one of the first to show off new goods.
Flexible screens have been talked about for some time, and companies have even gone as far as to produce some prototypes to show at expos and conferences. However, LG Display is perhaps the first to make a commitment to mass produce OLED (Organic Light Emitting Diode) flexible displays, and LG Electronics was the first to announce plans to produce a flexible smartphone using the screens.
NEW! Discover a new stock idea each week for less than the cost of 1 trade. CLICK HERE for your Weekly Stock Cheat Sheets NOW!
LG Display has told The Korea Times that it "will mass produce flexible displays from the fourth quarter of this year." The company estimated the production capacity to be 12,000 sheets of display per month. The screen-maker also told the paper that it will be supplying the displays for more than one major client.
Whether or not LG Electronics actually makes flexible smartphones, it would still benefit from the successful production and sale of the devices at LG Display. This is because LG Electronics holds a stake in the display company. However, LG Electronics seems likely to be the company taking most of LG Display's flexible sheets, considering LG Electronics is the only major smartphone maker to have come out and said that it will be making a bendable smartphone.
The company announced in April that it would be doing so, and no rivals have yet stood up to counter LG with their own announcement of a flexible device. Others, like Samsung (SSNLF.PK), have shown off flexible screen technology but haven't made any promises on devices.
NEW! Discover a new stock idea each week for less than the cost of 1 trade. CLICK HERE for your Weekly Stock Cheat Sheets NOW!
Yoon Bu-hyun, LG Electronic's vice president of mobile, told the Wall Street Journal that the company would be launching such a flexible-display device in the fourth quarter of this year. Unfortunately, Bu-hyun did not say much more on the matter. No device specifications were offered, and he did not mention in which markets the device will be sold.
Regardless of limited detail, the LG duo seems to be edging ahead into an area of new technology that others are taking their merry time entering. It may be that they are just ahead of their times, or it could be that they are going in the wrong direction.
Many industry watchers have their eyes set on the market for wearable devices, such as Google's (NASDAQ:GOOG) Google Glass or and Apple (NASDAQ:AAPL) iWatch. Once such products receive a wide launch, smartphones could fall to the wayside. A flexible smartphone might still be able to make it into the new rank of smart devices, especially if it were capable of folding around the wrist like a watch — which may not be out of the question.
NEW! Discover a new stock idea each week for less than the cost of 1 trade. CLICK HERE for your Weekly Stock Cheat Sheets NOW!
One thing is for sure: the arrival of bendable displays could put a major damper on the strength of Corning (NYSE:GLW) in the mobile components business. Because bendable displays are inherently durable, the necessity for Corning's robust Gorilla Glass in flexible devices would be next to nothing. The company does have a version of glass, called Willow Glass, but it's not certain what role — if any — that could play in flexible devices.
A lot of questions should be answered by the end of the year.
Follow Mark on Twitter (@WallStMarkSheet)
Don't Miss: Is Lululemon Stretched Too Tight?