Can Oracle Stay Afloat on the Cloud?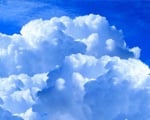 Oracle (NASDAQ:ORCL) is finding out late that it should have been focusing on cloud computing like some of its competitors. Five years ago, the company's CEO Larry Ellison described cloud computing as "nonsensical" in a Q&A session, according to Reuters. 
Now the company is seeing its mistake as Oracle, which has invested in traditional infrastructure over the last five years, is trying to keep up with other companies that pursued cloud computing. Some of Oracle's rivals have been expanding using cloud computing to gain customers because it is less expensive and faster than traditional offerings.
In order to keep up with other companies who are using cloud computing, Ellison has made deals with Microsoft (NASDAQ:MSFT) and Salesforce (NYSE:CRM) who are long-time rivals. Few details have been released on what these partnerships will actually entail.
Executives at Oracle do not necessarily blame their problems on cloud computing though. Instead, they have pointed to their salesmen missing the mark or their progress in other countries saying they are doing fine in the cloud computing industry.
While Oracle was focusing elsewhere, other companies have developed in the cloud computing field, including Salesforce and WorkDay. Oracle is having a harder time competing with these companies because they do not charge extra for maintenance and are used to lower margins than Oracle's traditional products.
Regardless of whether Oracle's problems are varied, investors are dissatisfied with the company's recent performance. The company's stock just plummeted 9.3 percent on Friday, which is the lowest drop in a day since weak March results.
Don't Miss: Has Microsoft Ditched Its Own Cloud Software For Oracle's?