Can Samsung Win Over Wrists With Gear Solo, Or Is Apple Needed?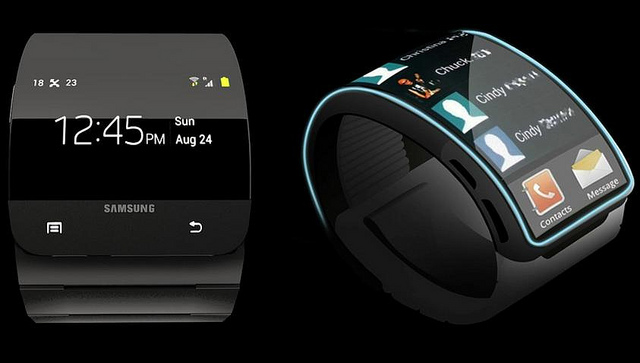 Smartwatches haven't succeeded. There's no question about it. Even as more big names in the tech industry — like Samsung (SSNLF.PK) — offer the wrist-worn devices, none of the smartwatches that have come to market have struck up the same levels of demand as smartphones have. It's possible that this weakness may have stemmed from the inability of many smartwatches to stand on their own. Samsung has been rumored to be working on a way to resolve that weakness with what the Korean Herald  hasreported could be called the Gear Solo.
Patently Apple reports that it found a trademark filing with the Korean Intellectual Property office for the name "Samsung Gear Solo." The Korean Herald also reports that the filed trademark is for the Gear Solo. The name certainly suggests that the device will be a loner, needing no accompanying device to function.
Samsung's first iterations of the Gear smartwatch required a bluetooth connection to offer much in the way of phone capabilities. Want to make a phone call it? Need to have a phone nearby connecting to it via bluetooth. In that capacity, it wouldn't seem to offer consumers much more than a simple bluetooth headset (and at a higher price). However, if users could make phone calls, send text messages, and use data without the need for a second device doing all the networking, a smartwatch may have more value to offer.
In March, CNET suggested that Samsung would be coming out with a standalone Gear smartwatch in the future that would have its own mobile connection. With the copyright filing for the Gear Solo, it looks like this is a distinct possibility.
Of course, there is always the possibility that even having a standalone smartwatch on the market in the Gear Solo won't do the trick of setting the smartwatch market ablaze. It could be that many are holding out for the much fabled but never confirmed iWatch from Apple (NASDAQ:AAPL).
Plenty of rumors have pointed towards such a device, like when Apple received flexible circuit board samples from Flexium Interconnect, Zhen Ding Technology Holding, and Career Holding, as reported by DigiTimes. The sources of this rumor also suggested that Apple would unveil an iWatch in September.
The Gear Solo may have trouble if it has to compete against an iWatch, especially in the U.S., where Apple has proven a much stronger competitor than in the global market. Timing will likely be a factor as well. Samsung hasn't announced the Gear Solo, and it's been reported by the Korean Herald that the Gear Solo has so far only been planned for the South Korean carrier SK Telecom (NYSE:SKM), though The Wall Street Journal later reported that Samsung was working with U.S., South Korean, and European mobile carriers to aim for a launch between June and July, according to sources for the journal.
Time could become a factor here. If the Gear Solo could become a hit smartwatch, it might still run into trouble if it comes out after the rumored iWatch, which is much less likely to have to fight for consumer admiration. Either way, the push toward smartwatches by the tech industry is definitely growing, as Google (NASDAQ:GOOG) (NASDAQ:GOOGL) announced its smartwatch-targeted Android Wear earlier this spring and has several manufacturers lined up to implement the software.
More From Wall St. Cheat Sheet:
Follow Mark on Twitter @WallStMarkSheet