Can Samsung's Galaxy Compete With Apple At This Price?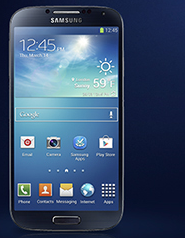 "If you're looking for Samsung's new Galaxy S 4 to define a novel new era of smartphone greatness, it's time to temper your expectations," wrote CNET just after the launch of the company's latest attempt to increase its dominance of the $358 billion global market. But Samsung (SSNLF.PK)  — and its wireless partner AT&T (NYSE:T) — seem to have a lot of confidence that the device will appeal to customers, even if it received a rough welcome from analysts. The carrier- manufacturer duo pushed the device's base price up $50 over the its predecessor and Apple's (NASDAQ:AAPL) rival iPhone 5S.
At AT&T, the Galaxy S 4 will cost $250 with a two-year contract and be available for pre-orders beginning on April 16 — although the wireless carrier has not yet announced the actual released date for Samsung's next flagship phone, noted Time.
Deutsche Telekom's (DTEGY.PK) T-mobile has announced pricing as well, according to the publication. Earlier this week, the carrier told analysts at an event in New York that it would be styling itself as the "uncarrier," AT&T and Verizon (NYSE:VZ) dominate the telecommunications sector with their duopoly, and, in following what has become the industry standard, they both have organized their fees for calling, texting, and data usage into strict contractual plans. But T-Mobile has decided to change the status quo. In an attempt to attract customers from its larger rivals, it decided to eliminate annual contracts and fees normally associated with mobile carriers. Coupled with this change in pricing, the wireless carrier will also get rid of cell phone subsidies in order to give customers lower service prices…
The carrier — which recently made a deal with Apple to offer the iPhone on its network — will offer the Galaxy S 4 beginning on May 1 for a price of $99 under the new subsidy-free plan.
Sprint, Verizon, and U.S. Cellular will also sell Samsung's new smartphone.
Samsung's Galaxy S 4 looks similar to the company's previous device, but with a few key differences. The phone will sport a 5-inch, 1080-pixel display set into a chassis of approximately the same size as the S 3. It will also have a faster processor, an improved camera, and eye-tracking software.
The Galaxy S4 is the first of three Samsung handsets that will be released this year with the aim of taking Apple's smartphone success down a notch. But early reviews indicate that Samsung's latest shot at the iPhone was merely a glancing blow in the ongoing barrage of competitive devices released by both companies, each attempting to gain a secure position at the top of the global smartphone standings.
Smartphone rankings reflect this ongoing scuffle for positioning; Samsung's Galaxy S3 sold fewer units than Apple's iPhone 5 in the fourth quarter of last year, but Samsung became the largest smartphone manufacturer last year; shipping 29 percent of all smartphones globally, compared to Apple's 21 percent.
Don't Miss: Does Facebook Have a Winning Advertising Strategy At Hand?