Can the iPad Mini Be a Trademark?
Apple's (NASDAQ:AAPL) many attempts to secure its various trademarks around the world are well known. Apple is still engaged in a continuing battle for the iPhone trademark in Brazil, and last year it paid Proview Technology to acquire the iPad trademark in China. However, this time the trademark battle is on the California-based company's home turf in the U.S. In a somewhat surreal turn of events in Apple's seemingly endless quest to secure its trademarks, Apple has run afoul of an overzealous examiner at the United States Patent and Trademark Office.
USPTO Examining Attorney Lee-Anne Berns is refusing to grant Apple's "iPad Mini" trademark for several odd reasons. First, she cites previous applications for the "iPad" patent from 2010 which could create a "likelihood of confusion between these marks," reports Patently Apple.
However, as Patently Apple rightfully asks, "Why would there be any confusion when Apple owns the iPad trademark and the associated product just happens to be the bestselling tablet computer on the planet?"
The USPTO examiner also seems to disqualify the trademark application based on a patent rule which forbids trademarks of a purely descriptive nature.
In the trademark rejection letter the examiner outlines the basis for this conclusion. First, the examiner points out the fact that the "I" prefix is descriptive since it "denotes 'internet.'"  Next, the examiner uses a dictionary definition to prove that "the term 'pad' refers to a 'pad computer' or 'internet pad device,' terms used synonymously to refer to tablet computers, or 'a complete computer contained in a touch screen.'" Finally, the examiner rather obviously demonstrates that "mini" is "'something that is distinctively smaller than other members of its type or class.'"
After explaining her reasoning, the examiner concludes in the official USPTO letter via Patently Apple that "both the individual components and the composite result are descriptive of applicant's goods and do not create a unique, incongruous, or non-descriptive meaning in relation to the goods being small handheld mobile devices comprising tablet computers capable of providing internet access. Therefore, the mark is merely descriptive of a feature or characteristic of the goods and registration is refused under Section 2…(1) of the Trademark Act."
Case closed?
Apple closed down 2.08 percent at $442.66 on Thursday, at the end of an abbreviated trading week.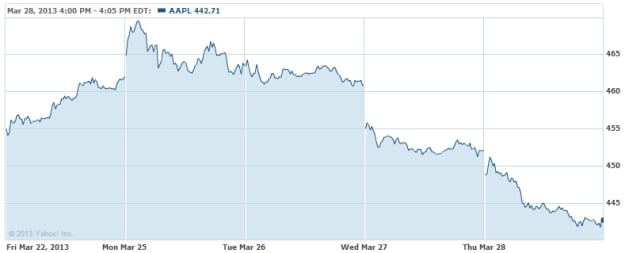 Don't Miss: Is This the iPhone 6?