7 Eco-Friendly Apps to Help You Help the Environment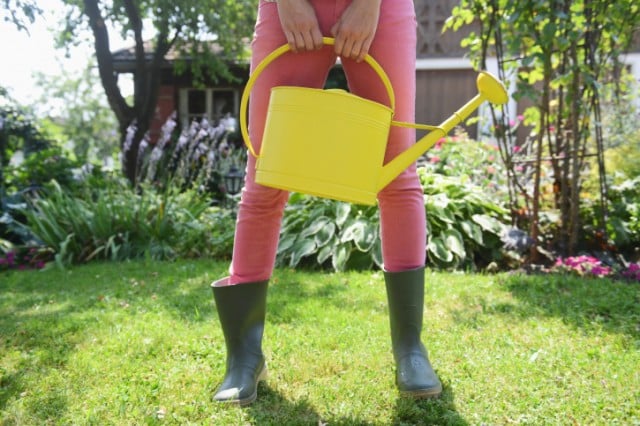 Some of us might only think about going green on Earth Day or if we like Michigan State University, but more of us should be thinking about how our morning commutes, what we eat for lunch, and how we use our utilities at home all make an impact on our communities and on our planet. Thanks to the fact that there really is an app for everything, you don't need to set aside hours to read scientific research to figure out what you can do to go green and make your daily choices more eco-friendly.
Developers have created an array of apps that help you pay more attention to the role that your everyday actions play in big issues like climate change. These apps can help you understand and protect the environment, and guide you toward the small steps you can take each day to take more eco-friendly action and become more aware of your impact on the earth. Read on for our picks of seven apps that will help you save the earth.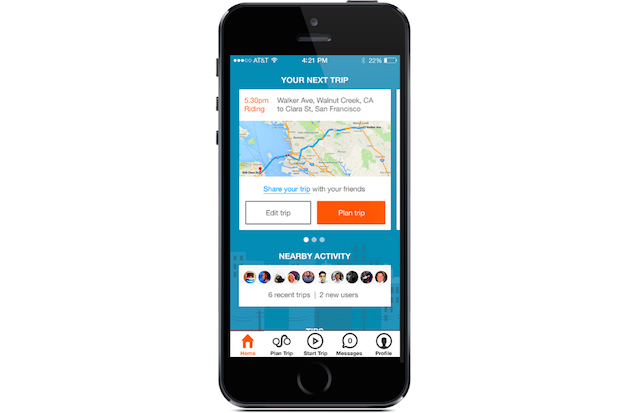 1. Carma Carpooling
Carma Carpooling helps you find nearby people to share your commute with so that you can reduce traffic, emissions, and even cut the cost of your trip. Riders pay the driver to share the cost of the commute, and Carma's website claims that carpooling with its platform is often cheaper than catching the bus.
Users can add credit to their accounts by making a secure payment with a credit card; 85% of what riders pay goes directly to the driver, and drivers can opt to give free trips by adding people to their Favorites in the app. Carma communities have been established so far in cities around the world and across the United States, including Austin, Chicago, Houston, Los Angeles, New York, San Francisco, and Seattle, and the app is available for both Android and iOS.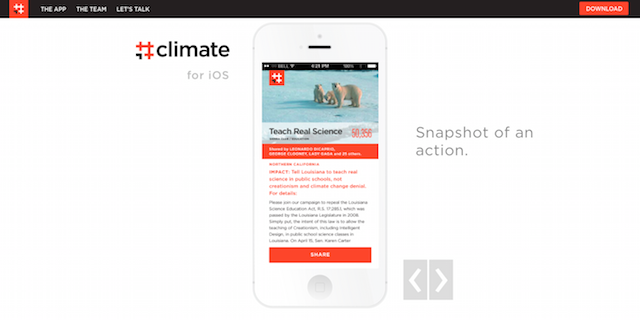 2. #climate
#climate helps you discover and share actions that you can take against climate change. The platform is designed to unite "vital, tangible, climate-saving solutions from the leading climate orgs with the most thoughtful, impactful influencers." You can build a profile in the #climate app specifying the topics you're passionate about. When you log in to the app, you'll see suggested actions personalized for you.
You can choose an action to learn the intended impact and the details you'll need to take part. Then, you can share actions on Twitter, Facebook, Tumblr, and Google+ with a single tap. You can track your progress on the platform with metrics like the number of supporters you've recruited, the count of reactions you've inspired, and the number of shares you've caused. The app is available for download on the iOS App Store.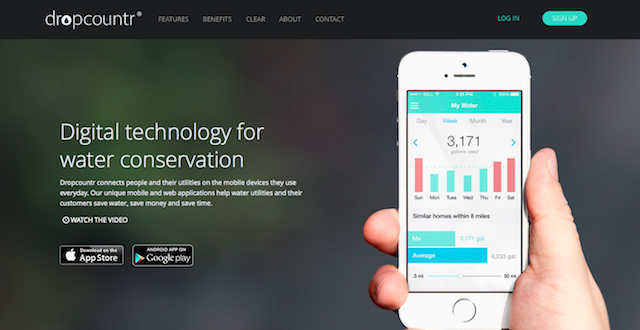 3. Dropcountr
Dropcountr enables you to conserve water by connecting you to your water utility company via your smartphone. Your water company can send you customized drought and water budget messages, or notify you of leaks. You can see how much water you use and compare your use to that of users like you.
The app will not only show you your current water consumption but also help you set a reasonable water budget to conserve water. You can track your water consumption throughout the day, week, month, or year, and Dropcountr also connects you with rebates to help you save money. The app is available for Android and iOS.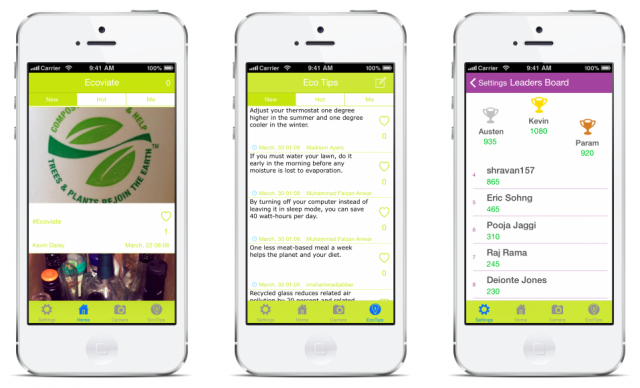 4. Ecoviate
Ecoviate is designed to spread social sustainability via a newsfeed of environmentally friendly activities and posts on eco-friendly tips and products that help you save energy, conserve water, and in other ways reduce your impact on the environment. The app is gamified with "Eco-Points" and rewards, and you can see how you rank among your friends with a leaderboard.
Ecoviate is the latest app from Param Jaggi, one of the entrepreneurs featured in our list of apps created by teens, and is the first product from his company, also called Ecoviate, which envisions a world "where environmentalism is a natural extension of the human experience." The Ecoviate team plants a tree for each download of the app, which is available for Android and iOS.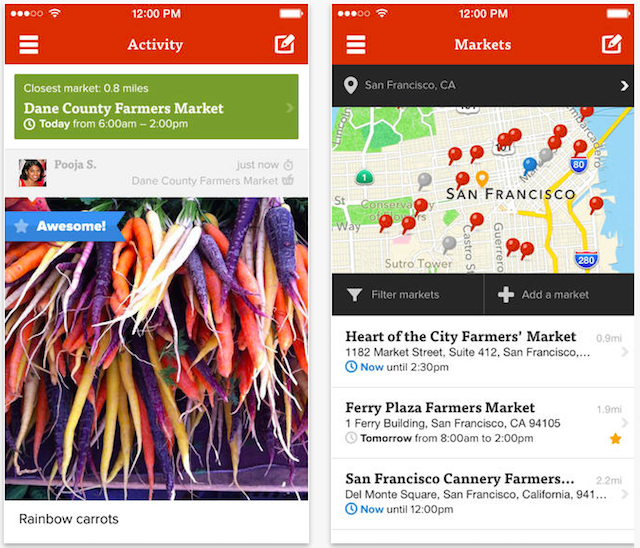 5. Farmstand
Farmstand helps you discover locally grown food from more than 8,700 farmers markets around the world. With the app, you can find the closest market and see what's going on at farmers markets nearby. It shows you information on each market, such as open times, directions, and photos shared by other market-goers. You can also post your own photos to share with the Farmstand community to promote your favorite farmers markets.
You can also add new markets or keep the information on existing markets up to date in the app, and when searching, you can filter farmers' markets by distance, next open time, or by which ones accept food and nutrition benefits like SNAP, EBT, and WIC. Farmstand is available on the iOS App Store and for the mobile Web.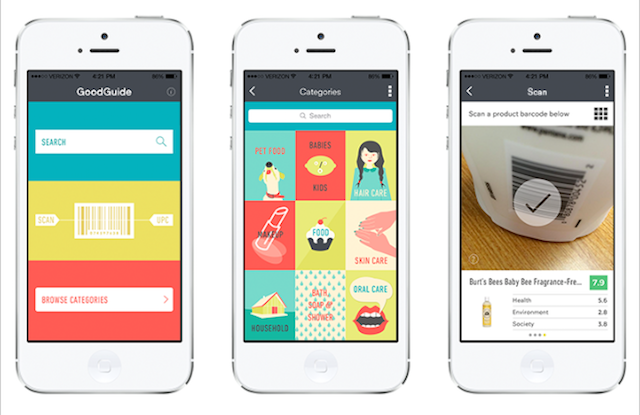 6. GoodGuide
GoodGuide helps you find safe, healthy, green, and ethical products with product reviews based on scientific research and ratings. GoodGuide's scientists rate products on a zero to 10 scale for their health, environmental impact, and social impact. The ingredients, health impacts, and certifications contribute to the health rating.
Resource use, environmental impact, and a company's transparency contribute to the environment rating; the impact on consumers, worker safety, and effect on the community contribute to the society rating. The overall score of each of the more than 250,000 products in GoodGuide's database is an average of these three scores. You can find ratings for food, personal care, and household products, and scan the barcodes of products in-store to retrieve information about them while you shop.
You can also select the environmental issues that you care about most to see how products align with your preferences, get customized product recommendations, and create your own shopping lists. GoodGuide is available for Android and iOS.
7. Oroeco
Oroeco enables you to track and reduce your impact on the environment. You can see how the choices you make in each area of your life — from how you live, what you eat, what modes of transportation you choose, and where you shop — connect to climate change. You can automatically track the climate impacts of how you spend your money with what Oroeco claims is "the world's most powerful carbon footprint calculator."
The app helps you save money and the planet with customized actions on how you can improve the carbon footprint of each area of your life. You can also compete and collaborate with friends, family, and neighbors, and earn badges in the app. Oroeco is available on the iOS App Store.
More from Tech Cheat Sheet:
Want more great content like this? Sign up here to receive the best of Cheat Sheet delivered daily. No spam; just tailored content straight to your inbox.