China: A Solar Hotspot?
It was good news for solar at the beginning of the month, and it seems good news for solar again at the end of the month. Recent bouts with smog in Beijing have prompted China to ramp up its solar energy investment.
Early in the month solar stocks were on the rise. One of the most notable events was Warren Buffett investing in solar through the $2 billion-plus purchase of the 579-megawatt Antelope Valley Solar Projects from SunPower Corp. (NASDAQ:SPWR) via MidAmerican Energy Holdings, a holding company controlled by Berkshire Hathaway (NYSE:BRKA)(NYSE:BRKB).
At the same time, China's solar was looking hot, as the world's two largest solar manufacturers, LDK Solar Co. (NYSE:LDK) and Suntech Power Holdings (NYSE:STP), both saw their stocks jump in late 2012. China was also predicted to become the world's biggest solar market in 2013 by HSBC Holdings — and the fast-growing nation seems ready to prove that prediction right…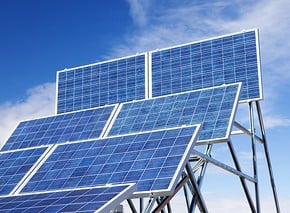 After the hazardous amounts of smog in Beijing reached record levels this month, China's State Council counselor and Chinese Renewable Energy Society president Shi Dinghuan said China would increase its solar energy supply goals from 21 gigawatts by 2015 to 35 gigawatts by the same deadline.
This new goal would be a massive increase from the 6.5 gigawatts of capacity China had at the close of 2012. As much as 10 gigawatts can be expected to be added to China's capacity by the end of this year, according to a statement from the Chinese government earlier this month. At that rate, China would be able to meet its 35 gigawatt goal sometime in 2015.
In 2012, China subsidized domestic solar projects with 13 billion yuan in allocated funds, and will offer 1.82 billion yuan in subsidies for rooftop solar installation projects this year…
The ramped-up demand for solar energy in China could help companies like Suntech Power recover from recently weakened demand, U.S. tariffs on Chinese solar cells, and European probes into below-cost sales of solar panels. It would also likely further Suntech Power and LDK Solar's lead in the solar market.
LDK Solar and Suntech Power shares were down Wednesday afternoon, but could take a turn up further down the road as China invests more and more into home-grown solar energy.
Don't Miss: How Did Shell Get Off the Hook for These Spills?