China is Prowling Over Apple and 2 Other Tech Titans Making Noise
Apple (NASDAQ:AAPL): A Chinese regulator stated that it would heighten supervision over Apple's consumer-rights practices since state media continued to attack Apple due to its after-sales practices, The Wall Street Journal reports. On Thursday, the State Administration for Industry and Commerce stated that it would tighten oversight of Apple and other specified electronics companies. This statement came on the fourth day that the People's Daily, which is the official mouthpiece of the Chinese Communist Party, ran articles that are critical of Apple's warranty policy for its iPhones and computers.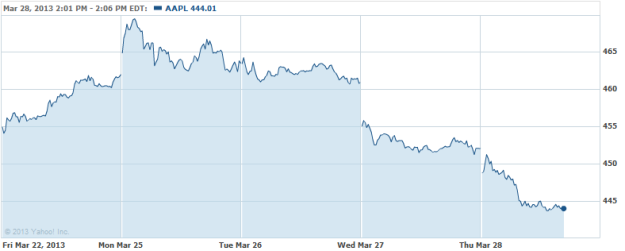 Amazon.com (NASDAQ:AMZN): Amazon.com and Overstock.com (NASDAQ:OSTK) lost a challenge to New York's Internet sales tax law as the state's highest court rejected their arguments that it was unconstitutional, Bloomberg reports. Amazon.com and Overstock.com sued the state's Department of Taxation and Finance separately during 2008 as they hoped to overturn a law that required retailers to pay taxes if they solicit business in New York via a link to a website. The two websites argued in state court in Manhattan that the law violated the Commerce Clause of the U.S. Constitution by subjecting online retailers without a physical presence in the state to sales and compensating use taxes.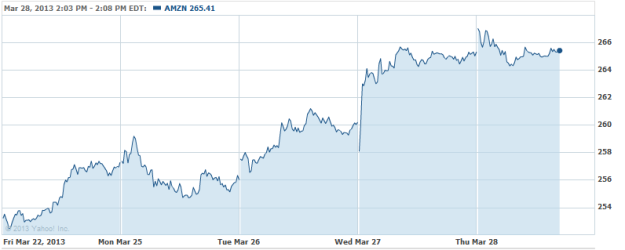 Google (NASDAQ:GOOG): The company has intentions to make digital eyeglasses in the U.S. with Foxconn Technology Group, according to Bloomberg. The eyeware was designed by Google and features software and cameras, and it will be made by the Taiwanese company at its factory in California. The company's co-founder Sergey Brin has been touting the device, dubbed Project Glass, as the future of mobile computing after describing smartphones as "emasculating." Fashion designers, skydivers, acrobats, and pilots were used by Google to demonstrate the eyeglass computers, state posts on the project's website.

Don't Miss: Should You Avoid Stocks During March Madness?