Cisco Claims China Problem, Lowers Revenue Expectations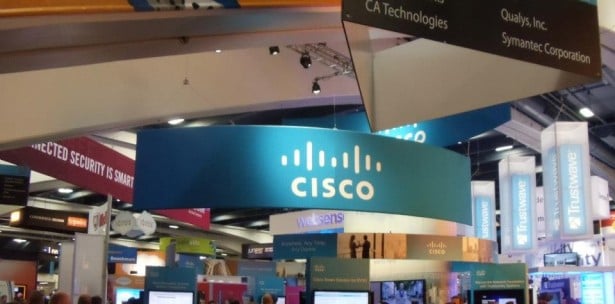 Cisco Systems Inc. (NASDAQ: CSCO) shares were down Thursday after the company forecast an 8 to 10 percent decrease in revenue for the quarter. The company released first-quarter 2014 results Wednesday, showing a 5.1 percent year-over-year decline in earnings per share, or 37 cents compared to 39 in first-quarter 2013. Net income was $2 billion for the quarter, at the same point last year, it was $2.1 billion.
Chair and CEO of Cisco, John Chambers, said in the statement that, "Revenue growth was below our expectation," adding, "our financials are strong, our strategy is strong and our innovation engine is executing extremely well." The investor presentation slides illustrate order declines in all geographic regions, and by 10 percent in the Asia Pacific, Japan, and China region (APJC). Overall, product orders declined by 4 percent. On a conference call discussing the results, Chambers said that, "I've never seen this before," when describing the drop in orders.
The Wall Street Journal covered the call, where Cisco revealed that in China, orders fell by 18 percent. Chambers said this may be attributable to the recent exposure of National Security Administration surveillance operations in other countries. Rob Lloyd also spoke on this point. "It's not having a material impact, but it's causing people to stop and then rethink decisions." Lloyd is the President of development and sales at Cisco.
Cisco faces challenges, particularly in China, from Huawei Technologies Co., a Chinese multinational telecommunications company. Huawei reports that in the first half of 2013, the company's revenue was 113.8 billion Chinese Yuan (approximately, $18.68 billion). This was a 10.8 percent year-over-year increase.
Analysts lost no time revising their outlook on Cisco. Reuters reports that Brian Modoff, an analyst at Deutsche Bank, wrote in a note to his clients that, "Our checks noted emerging markets weakness, we were clearly wrong on magnitude of the order weakness." Modoff downgraded Cisco from "buy to hold." Other analysts slashed stock expectations by as much as $6, bringing the value down to $20. As of Thursday morning, the stock was trading around $21.
Don't Miss: Cisco Sputters Through Another Quarter With Mixed Expectations.