Cisco Sputters Through Another Quarter With Mixed Expectations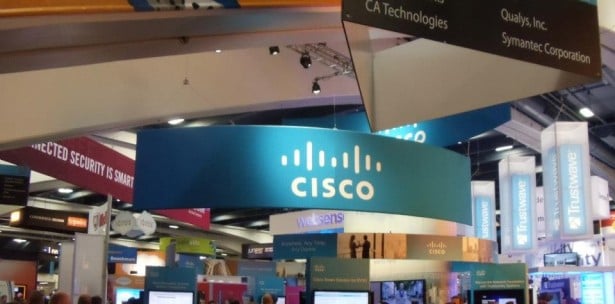 Cisco Systems (NASDAQ:CSCO) closed Wednesday's regular session up 1.12 percent at $24.00 per share, but fell as much as 3 percent in post-market trading after reporting fiscal first-quarter results. Revenue increased 1.8 percent on the year to $12.1 billion, missing the mean analyst estimate of $12.36 billion. GAAP net income fell 4.6 percent on the year to $2.0 billion, and earnings fell from 39 cents per share to 37 cents per share. Non-GAAP net income increased 11.6 percent to $2.9 billion, while adjusted earnings increased 10.4 percent to 53 cents per share, beating the mean analyst estimate of 51 cents per share.
So the results weren't great, but this was foreshadowed in the the company's fiscal fourth-quarter results when Cisco provided underwhelming guidance and announced that it would be reducing its workforce. Those reductions manifested in the first-quarter results: GAAP net income includes a $237 million charge related to workforce reductions.
At the same time, Cisco is aggressively investing in and acquiring new businesses. GAAP net income also includes a $257 million charge related to compensation expenses related to the acquisition of Insieme Networks. At a glance, this looks a bit like "out with the old, in with the new." Many investors fear that Cisco's hardware-based cash cow may begin drying up thanks to the advancement of software-based networking solutions, and Cisco's actions indicate that it is trying to stay ahead of the curve.
This quarter, Cisco reported several significant business results. The Insieme Networks acquisition was, as mentioned, completed. Insieme launched a new product lineup on November 6 that are an alternative to software-defined networking solutions, which many observers fear will hurt Cisco's core hardware business.
Cisco also completed its acquisition of Sourcefire, "a leader in intelligent cybersecurity solutions, effectively making Cisco a provider of one of the industry's most comprehensive advanced threat protection portfolios, as well as a broad set of enforcement and remediation options that are integrated, pervasive, continuous, and open." Cisco bought a company called Composite Software and announced its intent to acquire solid-state memory company WhipTail Technologies.
Last but not least, Cisco opened up a Center of Innovation in Rio de Janeiro, Brazil, designed at developing and deploying solutions tailored to local needs. This center should have form the basis for long-term business based out of Brazil. To soften the blow of its underwhelming performance recently, Cisco announced that it is increasing its share repurchase program by $15 billion. This brings the company's remaining repurchase authority to $16.1 billion.