Citizenme: An App That Will Let You Sell Your Own Data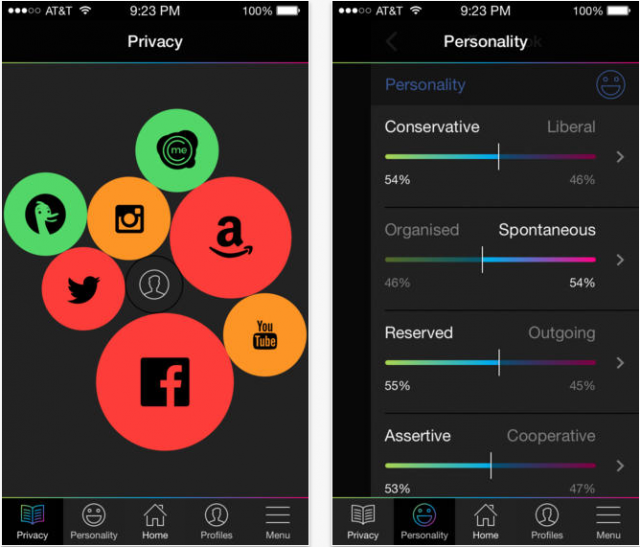 As any discussion of social media will eventually address, the toll you pay for access to services like Facebook (NASDAQ:FB) or Twitter (NYSE:TWTR) is your personal data. Most users would acknowledge — some begrudgingly than others — that personal data is integral to the advertising that allows the sites to run. But most users also don't know exactly what they're sharing when they use a social networking site or app. They're also largely unaware of the wide range of policies and privacy settings that they agree to when they create an account or download an app. But one startup is hoping to make the inevitable process – the necessary evil, some might say — of sharing data more transparent to users, and eventually enable them to control who gets what data.
Startup Citizenme has a broad vision, but is starting with a simple app for people who'd like to know what information they're sharing with their social networks. Eventually, the company plans to provide a solution for users to sell their own data directly to advertisers. But for now, the Citizenme iOS app has launched with two functions.
The first is to keep track of the terms of service for the popular apps installed on your phone, highlighting what could be controversial terms and rating each service's privacy settings and policies. The first time the Citizenme app is launched, it detects apps like Pinterest, DuckDuckGo, Instagram, Foursquare, Google Plus, YouTube, Tumblr, LinkedIn (NYSE:LNKD), Twitter, and Facebook, and shows its analysis of each company's policy.
What Wired calls "particularly alarming policies," such as Facebook's broad license to your photos, are highlighted in red. Policies that are better for the user, like Twitter's transparency about cookies, show up in green. And policies in between are shown in yellow. When a company changes its terms of service, the app alerts you and lets you vote on whether the changes are good or bad for users.
The second function of the iOS app is to use your social media posts to measure your personality. Using personality tests developed with researchers at Cambridge University, the app can predict if you're politically liberal or politically conservative, and can even detect if you're more conservative on one network than on another. As Wired's Klint Finley points out, "It's fun, if not particularly useful, and it might help explain some of the ads Facebook sends your way."
The Citizenme website notes that the company plans to launch apps for Android, Firefox, Ubuntu, Windows, and Chrome "through the summer," with Wired reporting that an Android version is expected to be available next month. The site brands Citizenme as "your new Personal Identity Management service," hinting at the services that it plans to offer in the future. Future expansions of the current service will see the app integrating information like location data, data collected by health and fitness trackers, or even types of data like your genetic information, which you might share with a service like 23andMe. The idea is to enable users to learn how advertisers perceive them, and then eventually to be able to sell their data.
Deakins tells The Next Web that a "personal data exchange" will integrate with existing ad exchanges. Using the data exchange, you'll be able to offer your personal data to advertisers of your choice in exchange for a fee. Citizenme will be funded by its share — 10 percent — of what users earn by selling their data. Users who don't want to sell their data will be able to pay a subscription fee to use the service instead. The revenue model reveals the two types of users that the company expects to attract: "older" users who want better control of their privacy, and "younger" users who are accustomed to the idea of companies using their data and want to profit from it, too.
And the company's founder, StJohn Deakins, tells Wired that a user's ability to sell his or her data can benefit both the user and the advertisers: "If I'm going to buy a new car in two weeks time, I want to share that, because I want advertising and discounts for my new car. For me, there's a big benefit because I get a discount on my new car. The advertiser wins because they get a verified, validated lead. For the publisher, the advertising is validated through the individual. Pretty much everyone wins in the ecosystem."
But for now, the iOS app is an interesting way to look more analytically at what you're sharing with the social media apps you use regularly. It's possible that Citizenme's efforts to enable users to sell their own data will fall the way of other services that have attempted to do the same in the past. It's unclear exactly what Citizenme's service will look like, for users or for advertisers, or even precisely what data it will enable them to sell.
However, the simple idea of telling people exactly what social media services' terms and policies mean for them could change how users perceive the value of their data. Deakins also hopes that Citizenme will enable users to place more trust in internet companies again — though that, it seems, may be the hardest battle for the company to win.
More From Wall St. Cheat Sheet: