'CoD: Advanced Warfare' Trailer Teases Campaign Backstory, Multiplayer
Activision answered several brewing questions concerning Call of Duty: Advanced Warfare's backstory in a recent trailer. Previous teases and trailers have always displayed the tagline "Power Changes Everything." But who has this power and how have things changed? Kevin Spacey's character — Irons, apparently — and the trailer show just how he rose to power.
The latest trailer opens with a quick quote from Abraham Lincoln that says, "Nearly all men can stand adversity, but if you want to test a man's character give him power." It means that we can all find the strength to push through when times are tough, but when we attain power what do we do with it? We have the opportunity to chose to do anything we want. Sometimes this power poisons us. Irons is the poster-child for what happens when a man has such absolute power.
The world has been thrown into chaos from a unified terrorist attack on nuclear reactors across five continents. It has been beaten down to its lowest point, and the military forces of even the greatest nations are unable to respond to the crises that are facing their countries.
Enter Atlus, a private military corporation run by Irons that's strangely prepared to handle the task set before them. It has the "single largest standing military in the world," according to a character in the trailer. The game will follow Private Mitchell (voiced by Troy Baker) over the course of 8 years, so it's possible we'll see Atlus responding, fighting, and rebuilding these nations, which puts it in a position with tremendous power — likely giving it control over infrastructure across the globe and  putting it in a position to manipulate governments everywhere.
Players may move from battling against a terrorist organization to fighting against the Atlus organization over the course of the game. The trailer had much more to reveal than backstory, though. Activision also teased some aspects of gameplay.
It featured the appearance of a grappling hook that zips players up onto higher terrain quickly. This latest utility would only help to make for more fast-paced gameplay and give the multiplayer a much-needed revival. The exosuit has already been shown doing higher jumps and side-dashes, and the trailer featured a soldier doing a jump-back dash as well as showing the suit's enhanced strength. Other weapons that appeared in the trailer included a bug spy drone, stealth camouflage suit, and a jet pack that could give Ironman a run for his money. The maps and environments all seam to show urban-based combat in play, taking place in developed countries.
In one particular scene a non-playable female character is shown fighting across a metropolitan landscape. Female gamers will be delighted to know that women will continue to be equally represented on the virtual battlefield in the multiplayer and now the campaign. However, it would probably be unrealistic to think gender selection will be an option in a Call of Duty campaign anytime soon. Since Call of Duty Ghosts had the first inclusion of a female option in multiplayer and Call of Duty Black Ops 2 featured the first female NPC since Tanya Pavelovna appeared in Call of Duty: Finest Hour, which was released in 2004.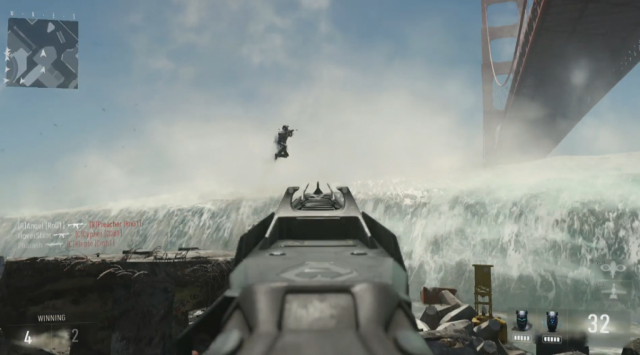 At the end of the trailer, Activision gave a few seconds of in-game multiplayer footage showing players in a fire-fight under the Golden Gate Bridge with a tidal wave approaching. It's uncertain if this tidal wave is an example of map events akin to Battlefield 4′s levolution events, which could certainly help change the pace of multiplayer sessions alongside the exoskeleton.
"Our multiplayer has what I'm going to call the biggest set of new, as you call it, cool gear that you've seen in a long time. It's a big step forward," said Michael Condrey, Sledgehammer Games' co-founder, to Metro. "From three years in development we've been able to innovate across the game."
Microsoft will be premiering a new trailer for Call of Duty: Advanced Warfare at Gamescom on August 11 that will reveal more details on multiplayer mode as well as a live stream sampling gameplay.
[mediagraph-partner content_url="8486264a437fe65e7f9c63ac"][/mediagraph]
More from Technology Cheat Sheet:
Want more great content like this? Sign up here to receive the best of Cheat Sheet delivered daily. No spam; just tailored content straight to your inbox.