Could Samsung Build a Better Mobile Wallet Than Apple?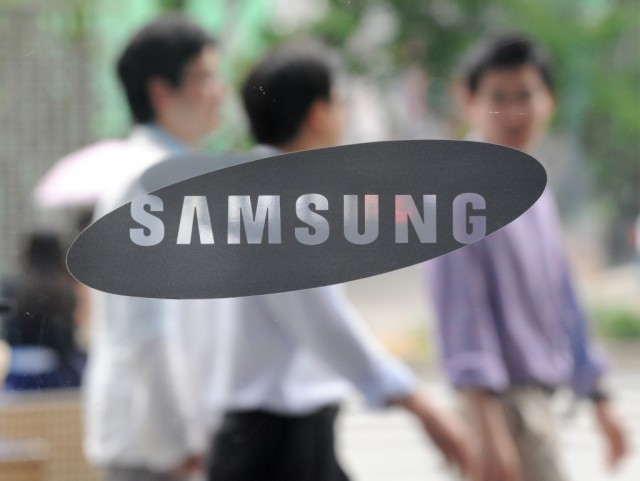 If recent reports are to be believed, Samsung may join Apple and Google in offering a mobile payments system of its own — one that it hopes could be more accessible and universally accepted than Apple Pay. Re/code's Jason Del Ray reports that Samsung is in talks with a payments startup to create a wireless mobile payments system to be unveiled in 2015, that would rival the recently introduced Apple Pay. The technology would enable owners of certain Samsung phones to pay at brick-and-mortar stores by waving their phones instead of swiping a card. It's unclear so far if Samsung has actually reached a deal with Massachusetts-based LoopPay, but one source says that a prototype of the payments system has already been created.
Del Ray notes that the talks between Samsung and LoopPay come as the launch of Apple Pay rekindles consumer interest in using a phone to pay for purchases in stores. In September, Apple unveiled the payments system, which enables owners of the newest iPhone 6 and iPhone 6 Plus to pay in stores by holding the phone near the contactless reader installed at a growing number of payment terminals.
Apple Pay users complete their purchases with an authentication process that involves pressing a finger against the Touch ID sensor on the iPhone. Samsung's latest Galaxy phone also includes fingerprint identification tech, and Re/code's sources say that it would likely be integrated into the new payments system. The fingerprint identification capability can currently be used in conjunction with PayPal's app to pay at stores that accept PayPal, and Samsung could be interested in creating a payments system to compete with Apple Pay because it believes such technology will become "table stakes" in its ongoing rivalry with Apple, according to Del Ray.
Samsung and LoopPay could create a system accepted at all payment terminals
A partnership with Samsung could help LoopPay take its technology mainstream. The technology mimics a magnetic stripe card — and thus is accepted in far more locations than Apple Pay or Google Wallet, which both require a store to upgrade its equipment to accommodate near field communication (NFC) technology. LoopPay can also wirelessly transmit the same information stored on a debit or credit card's magnetic stripe to a store's checkout equipment.
The technology, which LoopPay calls magnetic secure transmission, is so far embedded into a few products that the company sells directly to consumers, including a fob, or a LoopPay digital payment card that can be used either on its own, or secured in a custom smartphone case. LoopPay's website explains that more than 10 million merchants accept LoopPay, and it works with thousands of debit and credit cards, plus gift, loyalty, and private label cards. Users tap any of these devices near the spot on the store's payment terminal where they'd normally swipe a card.
LoopPay chief executive Will Graylin told Re/code that the company's technology would be embedded into a mainstream smartphone in 2015, one with "massive penetration." He has declined repeatedly to name the manufacturer of the smartphone, but did say that the partnership with the phone maker would enable payment information to be transmitted via NFC technology as well as through LoopPay's magnetic stripe-mimicking tech. He also said that users won't have to open an app to transmit their payment information.
The inclusion of NFC could be important to the future of LoopPay's technology as stores begin to upgrade their equipment to accommodate more secure EMV cards, which are inserted into a card reader, instead of traditional swipe cards. As Re/code notes, the upgraded equipment often supports NFC technology, and while merchants will still be able to accept magnetic stripe cards with the new tech, swiping is expected to get phased out as retailers and card issuers favor the safer chip-embedded cards.
Quartz notes that while Android powers more than 83% of smartphones shipped last quarter, Google Wallet has been "shunned" by the market due to a combination of poor design, ineffective marketing, and weak distribution. A potential partnership between Samsung and LoopPay could see Samsung, Google's largest partner, taking matters into its own hands and contribute to the shakeup of the U.S.'s payments infrastructure.
How does LoopPay compare to Apple Pay?
LoopPay currently lacks the security features of Apple Pay, which transmits a single code in place of the user's card details. But Graylin said that LoopPay has been in discussions with financial services companies — including Visa, one of its investors — about finding a more secure way to transmit payment data from its devices, or a phone, to a store's payment terminal.
LoopPay hopes to implement a system called tokenization, which substitutes the user's card information with unique placeholder data to enhance the security of the transaction. The token is matched up with the specific account by the card network or bank late in the payment process, and the merchant never receives or stores the actual payment information. Apple Pay already uses tokenization to transmit information from an iPhone to a store's systems.
On its website, LoopPay has a page dedicated to a comparison of its technology to Apple's, based on their accessibility and compatibility. It notes that while Apple Pay is available in 220,00 retail locations — equalling about 3% of the locations in the United States — LoopPay is available at more than 10 million locations, accounting for about 90% of retail locations across the country. LoopPay compares the relatively low count of banks that have signed on with Apple Pay to the more than 5,000 bank and credit cards, loyalty cards, gift cards, private label cards, and prepaid cards that can be loaded with LoopPay and used at retailers' POS terminals.
Additionally, while Apple Pay can only be used by owners of Apple's most recent iPhones, LoopPay works on "dozens" of types of smartphones, including iPhone 6, 6 Plus, 5, 5s, 4, 4s, Samsung Galaxy 4, 5, Note 3 and 4, LG, and Motorola. The site says that your user account with LoopPay "follows you and is not tied to one device maker."
The benefit for Samsung in a partnership with LoopPay would be that it would gain a system that works with any card and any terminal without needing banks or retailers to actively sign up, as 9to5Mac notes. Getting into the mobile payments is likely a high priority for Samsung, which wants to keep pace with Google and Apple and whatever they offer. Whether a potential mobile payments system created through a partnership with Samsung and LoopPay could be bigger or more popular than Apple's is hard to say, but LoopPay itself could benefit from the partnership, which could make it mainstream — a big challenge for any mobile payments system.
More from Tech Cheat Sheet:
Want more great content like this? Sign up here to receive the best of Cheat Sheet delivered daily. No spam; just tailored content straight to your inbox.